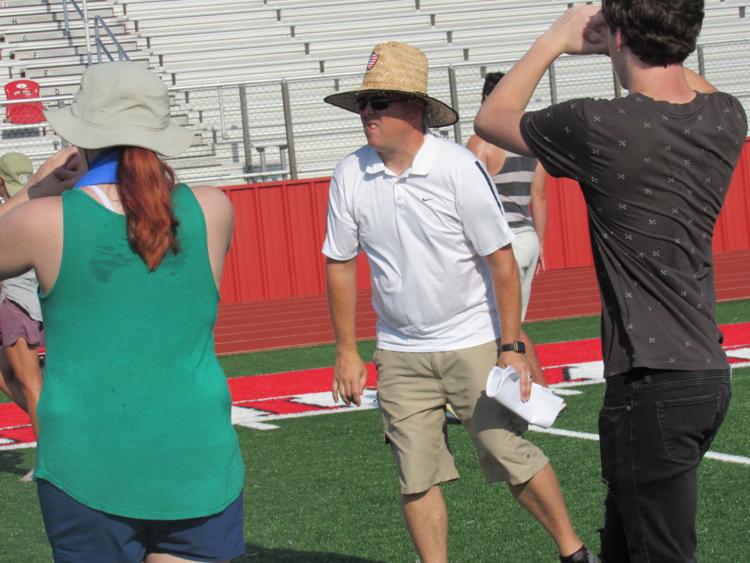 Hilldale High School Band members step forward, sideways and around curves on the Hornet football stadium.
Band Director Tad Clark steps along with them, ensuring that each musician and color guard member is in step. He manually adjusts students missing their cues. Students not in line drop and do push-ups or deep knee bends.
Muskogee area high school bands know the drill. Muskogee High School and Fort Gibson also are preparing their halftime shows for the coming year.
The Hilldale band is wrapping up its second week of band camp under a new director.
Clark comes to Hilldale after six years as Eufaula band director. Before that, he spent six years as a director of sports bands at University of Tulsa.
"We're going to kick things up a level to be more competitive," he said. "At this level, they're really good kids. I believe they're the best kids at Hilldale, but I could be a little biased. We're working really hard, just trying to up it into the next level."
Freshman Gabby Farmer, who plays baritone horn, said Clark surprised her.
"When he first said he was from the Marine Corps, I was expecting him to be way more mean than he is," she said. "He's a really nice guy. He's funny, and I found out he likes Oreos."
Clark said he was drawn by what he said was a good program at Hilldale.
"We have a good administration here, very supportive," he said. They want to have a good band program."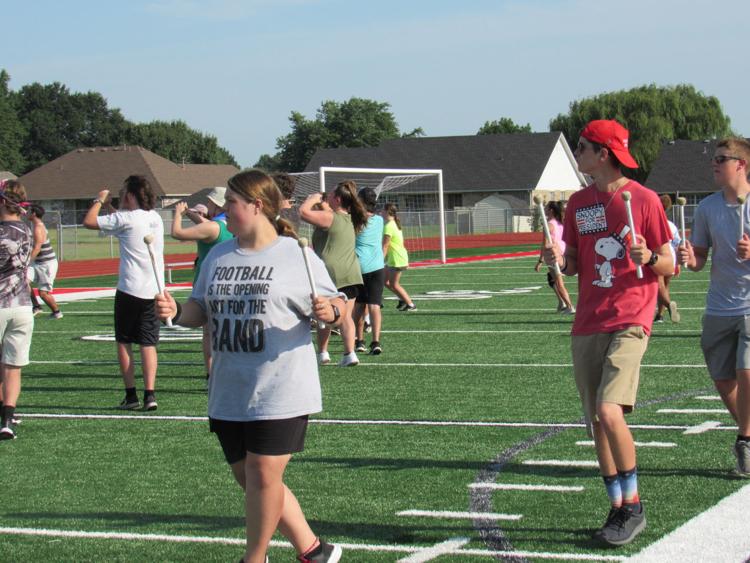 He said he doesn't want to tell anyone what the halftime show will be about.
"We like it to be a little bit of surprise," he said.
However, he did say people can expect a "better experience."
"We'll be playing more in the stands," he said. "We'll play a good national anthem. We're just trying to spread a better game day atmosphere for both students and fans." 
Hilldale senior percussionist Gannon Dubin said this year's camp was longer and much more rigorous than past ones.
"It's constant movement, more showy," he said. "It's a lot more than previous years."
Dubin said the band already has worked on four movements for the halftime show.
Pride of Muskogee is working on its show, "I Spy," which incorporates spy movie and TV show tunes, including "Mission Impossible," "The Incredibles" and James Bond themes.
MHS Band Director Bruce Thompson said directors began planning the program in February. He said the band has been working on the program for a week.
"We'll do it during school time every day," he said. "We have an evening rehearsal once a week for two and a half hours. That's where we spend more time teaching drill."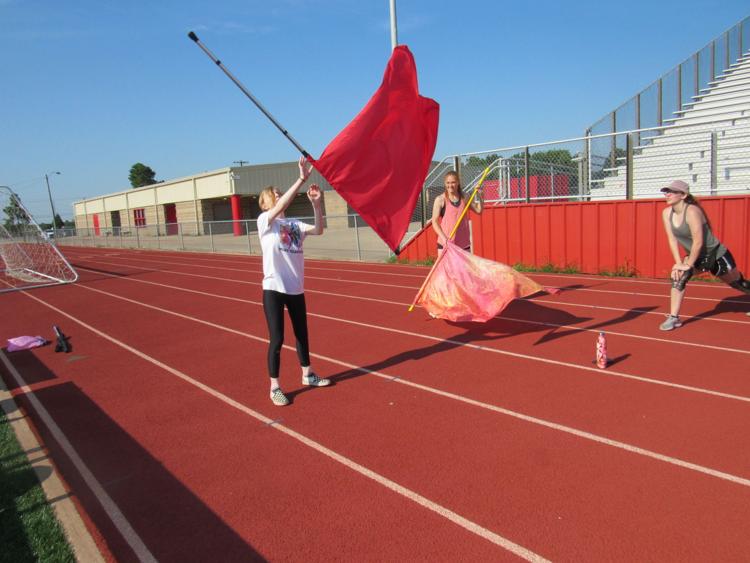 MHS Percussion Instructor Jeff McCoy said he wrote the drill for the show, which the band will perform at football halftimes and at contest.
"I basically posted a video of the drill for them (students) on my YouTube channel so they can watch it," he said. "I also have an animation of the show, so students can pull up their iPhones or YouTube."
At Fort Gibson, the Royal Regiment is working on a routine about China's Terracotta Warrior Statues.
Band Director LaNell Spyres said the show is called "Awakening."
"The directors do a lot of research on shows that are already out there," Spyres said. "When we find music that we like, we start planning costumes and props around the theme. We also work with a drill writer in designing the actual moves that the band will make on the field. It's all a team effort."
Spyres said the band started working on the music last April. They had a two-day "kick-off" practice in June.
"The students have been coming in since July 29 for four days a week," she said. "During that time, they put in four hours of practice in the morning and then come back in the evening for a two-hour rehearsal in the stadium."