A sorority girl heads to Harvard Law School to win back her boyfriend in the Muskogee High School production of "Legally Blonde the Musical."
Performances are at 7:30 p.m. Thursday, Friday and Saturday; and 3 p.m. Sunday.
The musical is based on a novel that became a 2001 hit movie starring Reese Witherspoon.
MHS Director Penny McGill said she was attracted by the fun music and fun story. She said she likes the musical more than the movie.
"The (musical's) story is more about Elle finding herself and finding value in herself," she said. "The movie focuses more about her chasing after her love interest, while the play goes through her learning she is fine by herself. She can get to Harvard and get into an internship program and win a legal case. She doesn't need a man to do it. I love the empowering message it has for young ladies."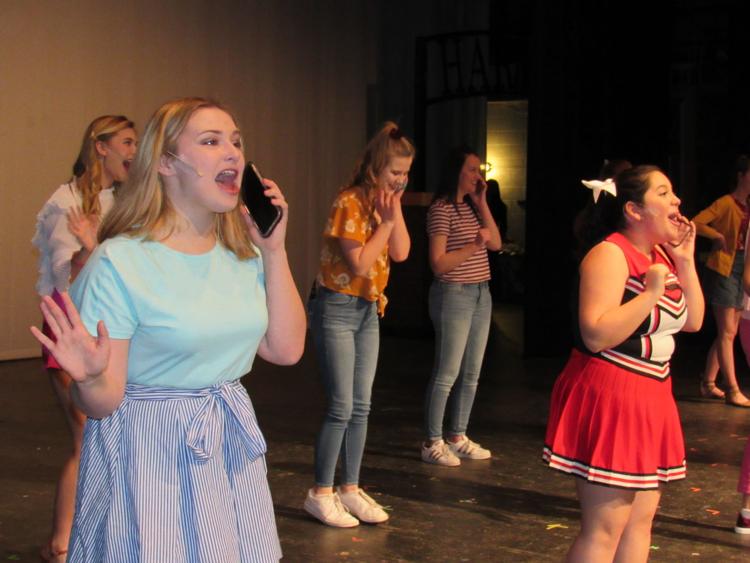 The show is still fun, McGill said.
"It's not too preachy," she said. "It has some wonderful, fun, upbeat music."
Tess Huffer plays Elle, the Delta Nu sister-turned-law student.
"It's been really crazy, a lot of hard work and not a lot of time to get anything else done," she said. "But I'm holding in there. It's all been worth it, for sure."
She said Elle has been a fun role.
"She's bright, she's bubbly," Tess said. "She gets mistaken for being kind of stupid, but she's actually really smart. She stands up for herself and she grows throughout the show."
Tess said Elle learns that "she really loves the law and is good at being a lawyer."
A little dog adds to the fun.
Elle brings her little dog, Bruiser, onto the Harvard campus. A dog named Rudy plays Bruiser.
Tess said Rudy is "very sweet."
There also is a larger dog that plays Rufus.
McGill said she's enjoyed the story for years.
"It turned out that this year was the year we had the resources and skill sets we thought would pull the show off," she said.
Those skill sets include female students who could sing the parts, she said.
"And the guys," she said. "We have a lot more heavy male vocals than we had in a while. That was important for us."
McGill said the music is "a lot more difficult than we had done."
She said music director Kerry Huffer has had to work hard on getting singers and instrumentalists trained.
There the show also posed technical challenges, McGill said.
Tech crew member Ali Munzenrider said the crew often must move a set during a scene.
"We don't actually have a blackout and a long pause while we're changing the set, then the music starts again," Ali said. "It's like we're doing everything at the exact same time."
She said she has to pay attention to cues.
"Like when so-and-so says a certain word, a piece has to go on, and when someone says another word, a piece has to go off," Ali said. "You have to pay attention the whole time."
McGill, however, remains confident.
"I think it's going to be seamless for the audience — while we're sweating backstage," she said.