Muskogee High School theater students had not even dreamed of their play the day before presenting it at the 24-Hour Theater Festival.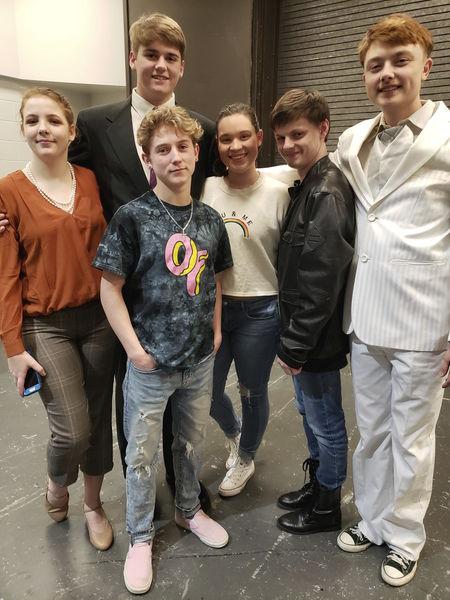 But the students managed to write, produce and perform the play — plus receive a second place rating — all within a day, said Penny McGill, MHS drama and stage craft teacher. The festival, which featured eight schools, was held March 14 and 15 at Union High School.
MHS also received a trophy for the best technical performance, and five MHS students made the All-Star Cast: Connor Lynch, Carter Beach, Steven Smith, Karen Craig, and Mallory Lindsay, McGill said.
McGill said students were given 24 hours to write, cast, memorize and produce a play.
"They all worked together to plan out the play," she said. "Two of them actually wrote it. Six of them performed in it. The other one, who helped write it, helped do the tech for it, running the sound cues. They all worked together to put together the set and the costuming."
The authors were Starr Osborne and Carter Beach.
Beach said writing the play gave him a neat insight into "a whole other side to theater."
"Working in a 24-hour time frame was exhausting, to say the least," Beach said. "Staying up late to write, digging through costumes and props, then carefully placing our set pieces to give off a believable take on a modern home that our show was set in."
He said the hardest part was memorizing lines. 
The most rewarding part was "hearing all the laughs and gasps I heard while performing with my teammates," he said. 
Cast member Mallory Lindsay said students brainstormed until finding "the perfect story." 
"The hardest part was making sure everyone was on the same page at all times and making sure we were all making the most out of our time," Lindsay said. "It was a great bonding experience for all of us, and we came home knowing that we did our best representing Muskogee."
McGill said the play, "Hello Omni," focused on a woman desperate to bring her workaholic husband, computer-addicted son and lovesick daughter back together as a family.  
"She stumbles upon a voice assistance app that proposes to be the answer to all her problems," McGill said. "As the app responds to her requests. she finds that there are unforeseen consequences."
McGill said the plays are student-led and student-driven.
"It's a really quick  24 hours,"she said. "It's intense. The kids stay up all night writing the play and they immediately have to start casting it, and they start memorizing it. There's a lot of stuff going on at the same time."
She said school instructors and sponsors "are just there to coach them."
"They asked me for help from time to time," McGill said. "But it's all theirs, from the writing of the show to production of the show."
McGill said this marked the third time in five years MHS participated in the contest. 
"I don't go every year because the timing of it hits other competitions," she said.