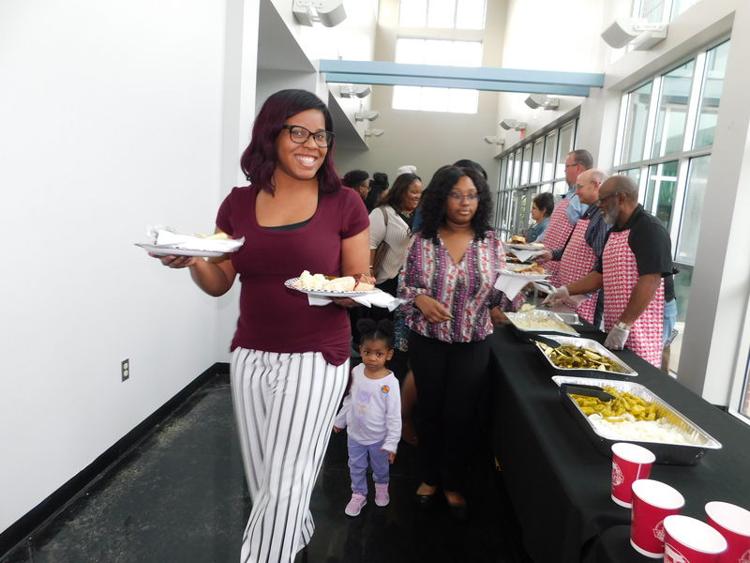 Between school and homework, Muskogee High School seniors Raylynn Thompson, Taylor Myers, Luster Harris and Jalen Harris find time to volunteer. They wouldn't have it any other way.
Combined, they have logged 2,695.25 hours and were among those honored Tuesday at the Rougher 300 Awards Banquet at Three Forks Harbor.
Thompson was surprised she had 1,277.25 volunteer hours.
"Wow, I didn't know that," she said. "I just hope I've helped a lot of people in the community. Those hours are worth it."
Thompson volunteers with Junior Civitan and Dean's Chapel Baptist Church along with her work in the community.
"I volunteer because with my help, a lot of people can do a lot things," she said.
Myers logged 612 hours and she, along with the Thompson, was recognized by the Muskogee Soroptimist Club at the banquet.
Myers volunteers at Antioch Temple of Hope, the Dr. Martin Luther King Jr. Community Center and National Baptist Congress. A member of the Lady Roughers' basketball team, she even started a volunteer organization, Beauty and Brains.
"I didn't have any older siblings to look up to," she said. "I had aunts and my mom, but they were older. I saw girls need someone to look up to, and I'll help them with any questions."
Kim Winston, a past president of the Soroptimist Club, made sure she was at the banquet.
"Volunteerism is the crux of our community," she said. "It's part of our mission to help young girls with volunteerism. It's wonderful."
The Harrises are not related, but they share a kinship for volunteering.
Luster Harris has 488 volunteer hours logged. He also volunteers at Dean's Chapel Baptist Church and Junior Achievement.
"I moved here from Dallas for ninth grade," he said. "When I first moved here, Muskogee welcomed me with open arms. I just wanted to help out, give back. This is a great community. Why not volunteer."
Jalen Harris logged 318 hours for his work with Rougher TV on the high school campus along with church work.
"I like to volunteer, because I like to see the smile one people's faces," he said. "It's a great experience."
Josh Cotten represented the Muskogee Exchange Club, the organization that honored the two young men.
"Volunteering is a great thing to teach, and it gets them prepared to enter work life or college life," he said. "We love sponsoring this."
The quartet, along with A'Janee Craft, Kayla Coxum, Shi'Briel Ragsdale, Teera Bryson, Alexandria Love, Anna Mix and Brookelyn Gilmore, are seniors who have 300 or more volunteer honors and will wear honor cords at graduation.
Total hours for all years combined
Freshman    
Gracie Wilkerson 78.5
Leah Knack 87
Keeara Clark 96.5
Sophomores    
Kaitlyn Conner 81.5
Kylie Gioletti 91
Natalie Massey 93
Gracie Jamison 137
Aspen Stewart 139
Evan Daugherty 151
Abigail Mix 213
Alexis Brown 288
Tiara Ryan 289.5
Valencia Rodriguez 541.5
Samuel Parish 598.5
Juniors    
Laynie Gragg 75
Caleb Echols 197
Lucy Tyrell 232
Gracie Munzenrider 236
Tony Capilla 300
Alexandria Munzenrider 334
Seniors    
Tiana Washington 79
Hailey Tucker 95
Abigail Page 97
Jayccye Mariano 105
Abbey Wood-Griffin 199
Grace Hiseley, 208
A'Janee Craft 303
Jalen Harris** 318
Kayla Coxum 335
Shi'Briel Ragsdale 360.5
Terah Bryson 365
Alexandria Love 395.75
Luster Harris** 488
Anna Mix 510
Brookelyn Gilmore 515.5
Taylor Myers* 612
Raylynn Thompson* 1,277.25
All seniors with 300 hours or more will receive honor cords to wear at graduation.
*Muskogee Soroptimist Club Awardee
**Muskogee Exchange Club Awardee