Student painters at Q.B. Boydstun Library created their interpretations of a woman in a rainstorm Saturday. 
Instructor Nancy Edscorn painted the original — a brunette in a black raincoat, red scarf, yellow boots and blue umbrella, braced against gloomy white rain in gloomy gray hues.
However some students painted a purple scarf. One painted a blonde. Some textured the gray background with blue or violet.
Such variations are acceptable, said Edscorn, who teaches Nancy's Paint Palette the second Saturday each month at the library.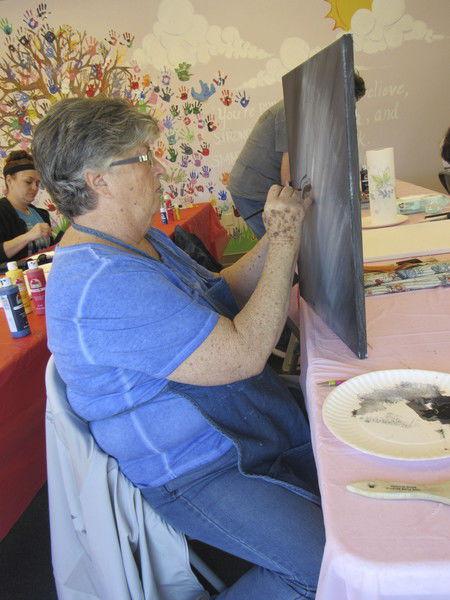 "At the beginning of my class I tell everybody I don't expect the paintings to all look the same," she said. "They don't look the same. Individual talents come out and continue to grow."
Edscorn said the class lets people take a paint class for only $10 a session, much less than many private venues. The class is for ages 18 years old, or 16 if accompanied by a parent.
"The great thing about is everybody has fun and everybody relaxes," she said. "It's for all kinds of people, all kinds of levels and abilities. For the ones who don't think they're artistic, it's a chance for them to just hone those skills."
Melissa Branch said she's come to the sessions for five months.
She said she's learning that "everybody's idea of art is different."
"It's kind of my 'me time,'" Branch said.
Edscorn began the latest session by sponging gray paint onto the canvas. She suggested darker shades around the edges.
Garnet Wind added purple streaks.
"I'm daring," Wind said. "I like texture, so I'm trying to have a little more texture." 
Students sat at tables, with their canvases flat on top.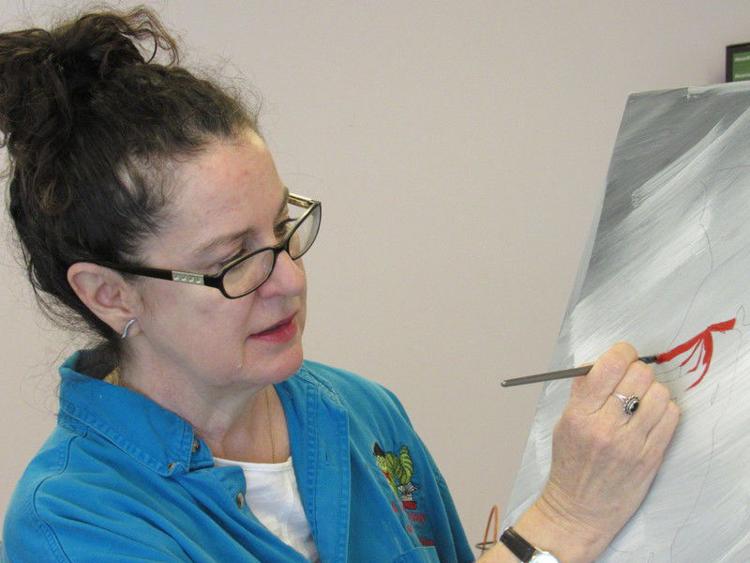 Phyllis Marble held hers up, so she could handle it better. Marble said she paints at home, but still enjoys coming to the class.
"It gives me a chance to be still," she said. "I can paint without being interrupted, as opposed to home. I don't have time to sit down and do what I want to do. This way, I get to get away from everybody and kind of enjoy this. I love it."
Participants paint at their own levels and speeds. Some already began painting the woman and her umbrella while others were applying gray.
Library Clerk Judy Walker, who joined in the painting, said the library has offered the class since 2017. She said the class averages eight or nine participants.
"Sometimes we average 16," Walker said. "Then we have to turn people away."
The class is offered first-paid, first-served, she said.
Florence Smith said she likes coming to the class. She said Edscorn patiently helps participants.
"She doesn't try to rush you," she said.