Clayton "Big Dog" Blevins has the key to good preaching, teaching and coaching.
"All three of them are based on loving people," Blevins said. "If you love people and you have a compassion for people, you want to see them do better. And when you want to see them do better, you'll work to make them feel more confident about themselves, to help their self-esteem. Really, just to give them joy in their life."
Blevins has blended all three for about 33 years.
He coaches ninth-grade football and women's tennis at Muskogee High School. He also is adviser for DECA (Distributive Education Clubs of America), which prepares young people for the business workplace.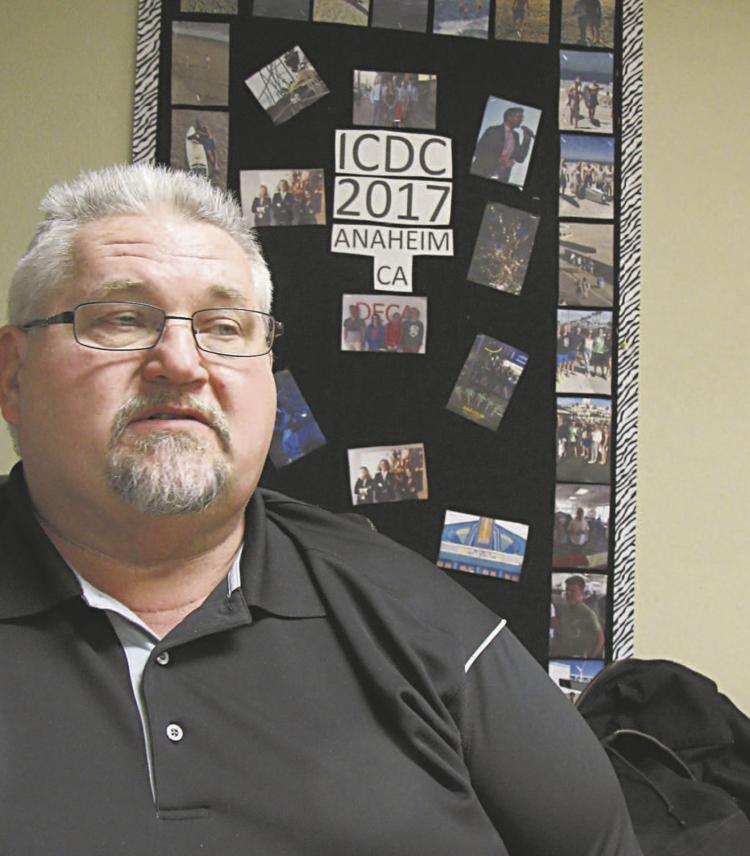 "If you don't love teaching, if you don't love coaching, it's not a very good job," he said. "You're not going to get rich at it. But you're going to be really blessed when it comes to the things you get back from people."
The Claremore native attended Bible school in Waxahachie, Texas. A friend directed him to a potential church position in Albuquerque, New Mexico.
"I was working at the hospital and a church in Waco, Texas, at the time," he said. "He called me said 'hey, I want to fly you and your family out.' I flew out there and just fell like it was right."
He returned to Oklahoma in 1997 to be with family.
"They had given my mom six months to live. I decided to move back up here," he said. "I went to the doctor with her on a Thursday. On Friday, there were three jobs in the 'Tulsa World' looking for math teachers who were coaches."
He took a job at Hilldale.
"Here's the crazy thing — my mom lived another 10 years," Blevins said.
And this Big Dog nickname?
"It's just a name the kids gave me a long time ago," Blevins said. "I think I picked it up around the Hobbs (New Mexico) area. We had a lot of coaches with names beginning with a B, and it just picked up as Big Dog."
Teaching in "small pieces"
As the son of two math teachers, Clayton Blevins said math comes natural to him.
"It's just something I've been exposed to," he said. "I'm just good at it."
Over the years, Blevins has designed his teaching to help others be good at math.
"I always tell my students math is fair," he said. "What you learn today, you will need to know for tomorrow. As you keep learning small pieces, before you know it, you've mastered the whole project."
Blevins he teaches in "small pieces."
"The important thing we have to remember as educators is that we have to make it in small pieces," he said. "What you are doing is mastery. The more they practice it, the more comfortable they feel with it."
His DECA students develop public speaking skills the same way, he said.
"We practice public speaking all the time," he said. "They get up and have to present in front of people. They have to take ideas and formulate. The more they do this, the more comfortable they become."
Molding students to be good citizens
Blevins played high school football and basketball for the Claremore Zebras.
His adult coaching career was more varied.
He coached football, basketball and track at the New Mexico schools.
He veered into other sports when he took the Hilldale job 20 years ago, coaching baseball, football, powerlifting and track.
At Muskogee, Blevin said he's coached a little bit of everything, including tennis.
Blevins says he's not an expert in everything about every sport. However, he knows what's important.
"The most important thing is knowing how to deal with young people," he said. "It's knowing the basic skills. It's just like everything else, the more you do, the better you become."
Blevins has coached boys and girls, but sees no difference.
"I treat all my students as athletes," he said. "I really just want my athletes to be good citizens. Not every student you coach is going to be an athlete, but they are going to make a living out of being a good citizen."
Filling in at churches
Blevins became ordained through the Assemblies of God in 1982.
"As I was working in Albuquerque or Hobbs, I was either an associate pastor or the pastor of a church," he said. "What I would try to do is go to churches that could not afford a full-time minister. So, I would go fill in for those churches."
For example, a church in Hobbs faced a severe financial dilemma, Blevins said.
"I took the church over and pastored it until we were able to burn the mortgage," he said. "I had an outside job simply because I felt I had skills that I could use in the workplace that would allow me to serve the church better."
Blevins said he no longer pastors full time.
"I kind of slowed down a little bit," he said. "It's like my mind says I can do all these things, but my body says 'well, you really can't.'"
However, he does fill in occasionally at different churches. When he's not preaching elsewhere, Blevins attends St. Paul United Methodist.
"I always laugh and say 'if you want someone to marry you, bury you or fill in for that Sunday you just got to get away, I'm your man,'" he said. "It doesn't matter the denomination. It doesn't matter the location. I just fill in."
HOW DID YOU COME TO BE AN OKIE FROM MUSKOGEE?
"I found a teaching position at Hilldale. What keeps me here is I love Muskogee. I'm a true Rougher. If you cut me, I bleed green. I know Muskogee has so much to offer."
WHAT DO YOU LIKE BEST ABOUT MUSKOGEE?
"I like the people. I like the community, how they have concerns for everyone. There is just a good sense of community here."
WHAT WOULD MAKE MUSKOGEE A BETTER PLACE TO LIVE?
"If we could just continue to bring in industry, and let the rest of the state know that Muskogee does have good industry. Muskogee is a great place to live and a great place to work. A great place to go to school."
WHAT PERSON IN MUSKOGEE DO YOU ADMIRE MOST?
"A lot of my administrators, like Gary Bivin, Dewayne Pemberton (former Muskogee High principals), they were influential in a lot of things in my life. Carl Robinson. He was a great, great man. Ben Robinson. Ben's been a good influence. Of course, everyone knows Uncle Ben."
WHAT IS THE MOST MEMORABLE THING TO HAPPEN TO YOU IN MUSKOGEE?
"I met my wife. When I was teaching at Hilldale High School, she was secretary-nurse at the elementary. And the assistant superintendent told me I had to take her out, so I did."
WHAT DO YOU DO IN YOUR SPARE TIME?
"Play bridge. I play bridge with a group of Muskogee business leaders. We've got some really good bridge players."
HOW WOULD YOU SUM UP MUSKOGEE IN 25 WORDS OR LESS?
"A great place to raise your children. Come and try us."