Focusing on Greg Harmon's main passion is not easy.
His artwork alone includes woodcrafting, photography and creating things from glass.
He and his wife also have a massage business.
The two also like to venture out in their customized teardrop trailer, which is small enough to pull behind a Toyota.
Harmon said he originally wanted to be a doctor, but didn't want to be burdened with student loans.
He spent three years in the Army during the final years of American involvement in Vietnam.
"I was either going to be drafted or I could join and guarantee myself stateside for 17 months, so I joined," he said.
After the Army and college, Harmon spent 17 years with American Greetings, working his way from customer service to management. He worked for other businesses before making a life-changing trip to Fort Worth, Texas. There, he met the woman who would become his wife. 
"We were both artists," he said, recalling that he drove his new bride back to Ohio.
When Ohio got too depressing, they moved to central Oklahoma.
"We moved as close as we could get back to Fort Worth, without being in Fort Worth," he said. 
They moved to Muskogee about four years ago after falling in love with a historic home in Kendall Place. They live there with several pets.
After buying and renovating their teardrop trailer, Harmon landed a part-time job with OK Schooners, a Broken Arrow company that makes the trailers.
"I do anything and everything from helping with the electrical to putting aluminum on the side to custom cabinetry," he said. "We make them one at a time." 
The Harmons also are involved with programs such as the Bare Bones Film Festival.
"We try to be active as much as we can in the community," he said.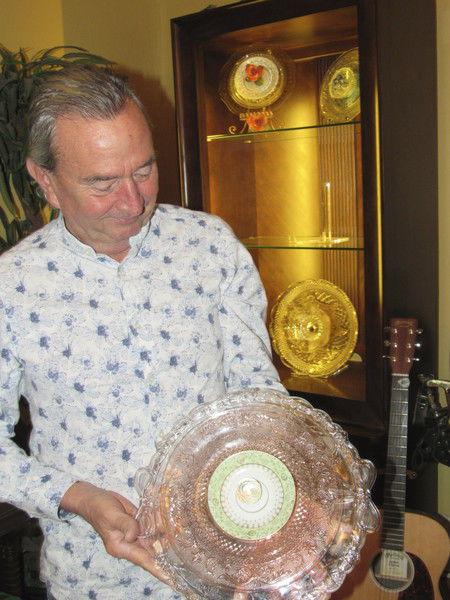 Turning glass
into works of art 
Greg Harmon's latest artistic venture has involved shelves full of vintage glass.
The shelves are stacked with various colors and shapes of translucent plates, jars, bottles and other glassware.
"We find it at garage sales, any place where we can keep it low cost to keep our costs low," he said. "A lot of this stuff is Depression glass. It's very old."
Harmon keeps a tray brimming with vintage doorknobs on a work table. They hand-painted some of the ceramic knobs. 
The craft is a simple one. They drill holes in the plates and glassware and stack them on top of each other. They put the knobs in the center.
The backs of the plates are often painted. Some plates have attachments so they could be mounted as yard decorations, he said. Others are left flat and can be used for serving appetizers. 
He said they started doing the glasswork two or three years ago because it was "just something to do, have fun."
"We did a trial run," he said. "We produced about 70 pieces, donated them all to friends and organizations. People who run charity events."
The Harmons hold classes in the glass art. They also sell pieces, though parting with them is not always easy.
"When you create it, it has to be a piece, something so beautiful that you just don't want to give it away," he said. "They're all our babies." 
Harmon said the art is a great stress reliever.
"It's an escape," he said. "When you start working on all this stuff, you lose track of time."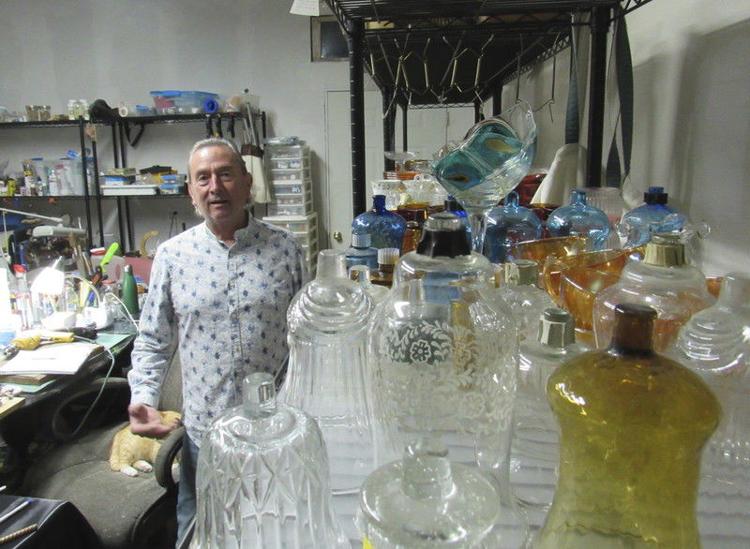 Massage to
helps others 
Harmon said his wife got him into doing massage when they lived near Oklahoma City, Edmond and Guthrie. 
"Instead of having an office, we worked out of our house," he said.
A chiropractor friend who was a barrel racer linked them up with area riders.
"Carolyn and I would work the barrel races, the International Finals Rodeo, all the big events in Oklahoma City," he said. "We'd work on the athletes, and patrons too."
He said he and his wife worked the barrel races, usually in summer. The massages would help loosen the riders' muscles. 
"Carolyn had one guy who was in the International Finals Rodeo.... He had really gotten himself injured. He was going to have to drop out of the event," Harmon recalled. "She worked on him a lot, and he ended up winning."
He said he finds joy doing massages.
"We've been a husband and wife team for 16 years," he said. "The rewards are being able to help people, whether they are injured or just need relaxation."
He said they also have a spiritual approach.
"We pray with them," he said. "Our whole environment is all about love."
Couple takes
to the road 
Greg and Carolyn Harmon like taking their teardrop trailer on the road.
They picked up the trailer in South Carolina. 
"It was in bad shape," Greg Harmon said. "The converter box was so old, it exploded when Carolyn was there. It had this cowboy wallpaper inside. It was plywood that was painted white. We relined it, rewired the entire thing."
The tiny interior features a bed with plush pillows and widescreen TV. The cook stove, cooler, dishes and dish drainer are stored in back.
Harmon said they like do go "boondocking," which he described as camping off the grid with only a battery.
"We went to Port Aransas, Texas, at Christmas, and we just stayed on the beach," he said. "Our car and our trailer right there, just get out and enjoy life."
Harmon said the camper has a cooler with ice and a camp stove.
"We just fish and enjoy life," he said. "We've been up to Colorado. We're getting ready to take a trip in the near future to Florida, go through Tennessee, Georgia."
Q and A
HOW DID YOU COME TO BE AN OKIE FROM MUSKOGEE?
"We used to live in Edmond, Guthrie area. Carolyn and I would be out driving around and we were looking for houses for nine, 10 years. Because I was doing outside sales, I worked out of my car. I just happened to see this house. It was for sale. It was crazy beautiful. Then we ended up buying it — four years now. The whole town is wonderful people."
WHAT DO YOU LIKE BEST ABOUT MUSKOGEE?
"All the people. Everyone here is so friendly and so different. There are lots of good restaurants. Everything is close. Everything is five minutes away."
WHAT WOULD MAKE MUSKOGEE A BETTER PLACE TO LIVE?
"I think we need to revitalize the downtown. We need more different kinds of shops. More art studios, things of that nature. Probably even some music type venues for jazz, the blues."
WHAT PERSON IN MUSKOGEE DO YOU ADMIRE MOST?
"Probably Marlon Coleman. He's our pastor. He's just a wonderful person.  ShIronbutterfly Ray and Oscar Ray, we work with them on the Bare Bones Festival, which is coming up." 
WHAT IS THE MOST MEMORABLE THING TO HAPPEN TO YOU IN MUSKOGEE?
"Moving here, just being a part of the community. We love the Renaissance Fair here. It's a wonderful place to go. We dress in the attire. We have all the costumes."
WHAT DO YOU DO IN YOUR SPARE TIME?
"Relax with my wife and watch some Netflix and cook.  I love to cook." 
HOW WOULD YOU SUM UP MUSKOGEE IN 25 WORDS OR LESS? 
"It's probably the best kept secret, and it's a wonderful place to live. And it's close to all the parks and lakes. Close to the big city without having to live in the big city."