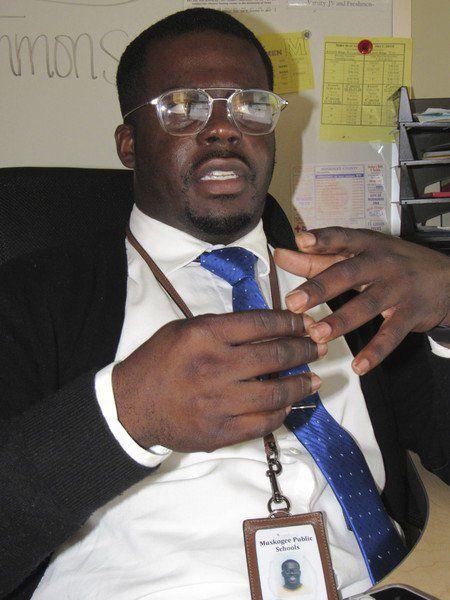 Muskogee High School earth science teacher Ja'Corie Maxwell uses the latest technology to teach about rocks, oceans and climate.
For example, instead of testing with paper, Maxwell had each student hold up answer cards. He scanned the cards with his smartphone.
However, Maxwell seeks to offer consistency in his classroom. He said that was an important quality he saw in people who influenced him. 
One influence was the late Apostle Lathon Archie, pastor of Faith Deliverance Christian Center.
Maxwell recalled Archie's teaching that "we're not made to be average."
"Whatever you decide to do, whether it is selling watermelons or selling cars, you work until you are the best," Maxwell said. "That work ethic was instilled in me over the years. Now, it is no problem for me to work hard and stay long hours, because it is my goal to be the best I can be. Until I get there, I'll do those things."
Maxwell earned his education degree from Northeastern State University in December 2016. He taught at Tahlequah Middle School, then switched to Muskogee High School after one semester.
"When I graduated and decided I wanted to be a teacher, I thought it would be so cool to be able to come back and teach at the school where I was at," he said.
He decided it wasn't just cool, but important to come home.
"People always say, 'If you become a teacher, go to Texas, go to here, go to there,'" he said. "But what about all the good teachers that I had? They didn't do that. Why shouldn't I take what I learned and what I gained and use it here."
Following the examples of others
Ja'Corie Maxwell recalls several teachers who impacted his life.
"All these teachers taught different things that mean the world to me now," he said. 
He recalled history teacher Jack Reavis.
"Something he said on the first day of class has stuck with me," Maxwell said. "He said, 'If you learn nothing else in this class, I want you to learn to think for yourself.' I thought that was the weirdest thing I ever heard."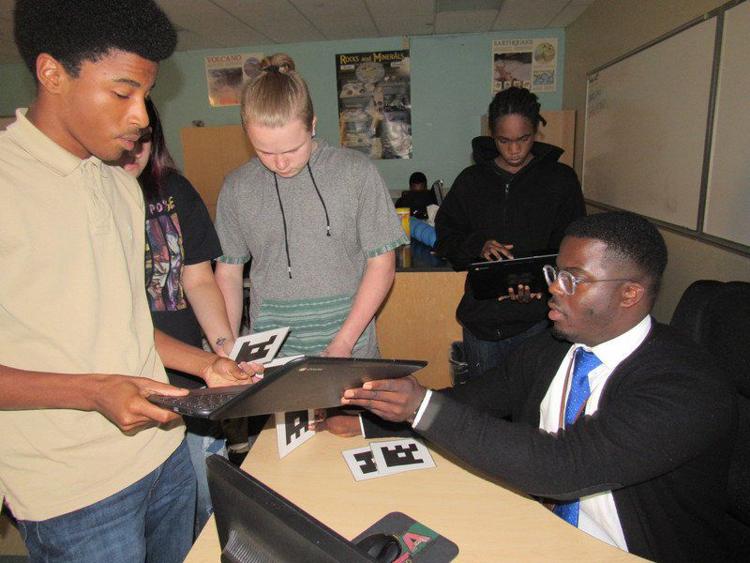 Maxwell said Reavis reaffirmed that through his teaching.
He said his Muskogee High School math teacher, Gene Madding, taught consistency.
"Every day, there was no question on what Mr. Madding was like," Maxwell said. "He had a consistency that was robotic. Students like me, I needed that consistency."
Maxwell said he seeks consistency in his classroom as a result. 
"For the most part, it's routine, routine, routine — and my students thrive," he said.
He said science teacher Michelle Behrens nurtured the idea that "anyone can do science."
English teacher Raytosha Craft also modeled consistency, he said. 
"The English skills that I have came from the standards that she held us to from day one," he said.
Career goal 'made sense' 
Maxwell recalled starting college as a pre-medicine student. Then, he had an epiphany. 
"Pretty much, I was like, 'is this something I will enjoy doing every day, all day long," he recalled. "And I really couldn't say yes to being a doctor. Grade-wise, there would be no problems, but I couldn't see myself doing that."
He said teaching had been on a back burner for his career goals. 
"I decided, 'I'll give education a shot,' and from that moment at the end of my freshman year until now, I never looked back," he said. "It just fit. It just makes sense to me."
He recalled feeling like a weight was lifted. However, Maxwell then was torn between history and science.
"When I looked at just what was more interesting to me and to students, I thought science would be," he said. "You don't see too many science teachers, or male science teachers."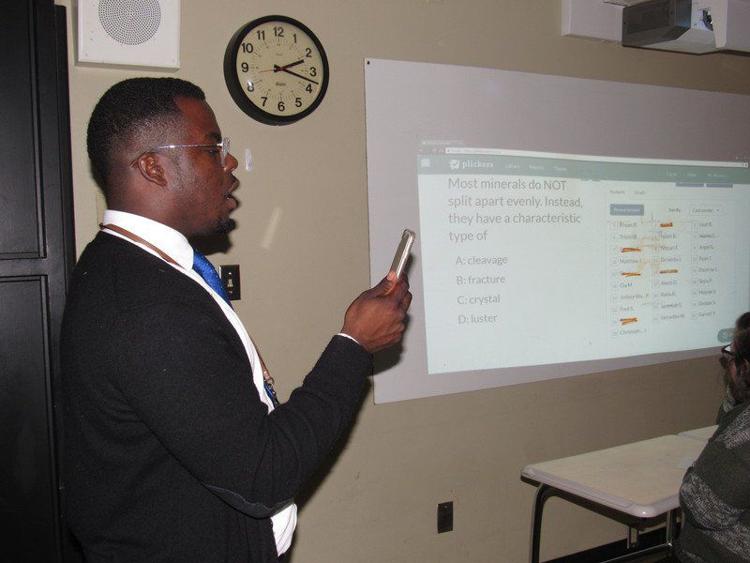 He said he chose earth science, because he was never a fan of chemistry, or "the blood and guts of life science."
Maxwell said the main thing he learned about teaching is to "plan, plan, plan and plan again."
"You could never be too prepared," he said. "A lot of teachers told me, 'you could never over-plan.'"
Church provides order to his life 
Maxwell said his church, Faith Deliverance Christian Center, has given him consistency during changing times.
"For the most part, it helps me to keep everything in perspective," he said. "I need consistency. I need order. They provide that."
He said people at his church remind him of his family.
"My stresses and my struggles, good and bad, they know it all," he said. "They saw me from the time I was 3 or 4 until now."
Maxwell said he feels his church has grown with him. He said he knows of people who say their church is the same as when they were little.
"Well, mine isn't," he said. "It's just grown in so many different ways. So many things they do now, we weren't doing 20 years ago. I like things to change. I feel like it's natural for things to progress and evolve."
He said the church's ability to grow keeps it relevant in his life.
"It's not just things I was taught in kindergarten," he said. "It's as challenging to me as an adult as it was when I was a kid."
HOW DID YOU COME TO BE AN OKIE FROM MUSKOGEE? 
"My family has always been here. My grandmother is from New Mexico. She married my grandfather, a truck driver. She came down here. My family was pretty much born and raised here. All my aunts and uncles grew up here in Reece Addition. We pretty much went from there. My parents are from here." 
WHAT DO YOU LIKE BEST ABOUT MUSKOGEE?
"I really like the fact that everybody knows everybody. It's kind of a bigger city, but it kind of has that hometown feel. If I don't know you, I'm sure we both know someone in common. You never really meet a stranger. If you do, they're only a stranger for a few minutes." 
WHAT WOULD MAKE MUSKOGEE A BETTER PLACE TO LIVE?
"If they recognize what we have. We have a state-of-the-art, a premier high school. I don't think they recognize that. If we just recognize what we have other people will follow suit."
WHAT PERSON IN MUSKOGEE DO YOU ADMIRE MOST?
"My pastor, the late Apostle Lathon Archie. He was an amazing person. Not just a pastor, but an amazing person who loved people." 
WHAT IS THE MOST MEMORABLE THING TO HAPPEN TO YOU IN MUSKOGEE?
Attending a 2 Much 2 Lose national conference and national finals in National History Day competition.
WHAT DO YOU DO IN YOUR SPARE TIME?
"I'm pretty involved in my church already. A lot of creating stuff because my classroom, being online, has some advantages and disadvantages. 
HOW WOULD YOU SUM UP MUSKOGEE IN 25 WORDS OR LESS?
"The best place that you've never visited."