INTRODUCTION 
Jane Miller had to pause and count the number of cats she's had in her life, mentioning many by name.
"I'm going to say at least 20 cats," she said. "That's not counting these guys."
"These guys" include about four cats she adopted, plus one she is fostering before getting him adopted.
Miller has fostered cats for the Coins 4 Critters adoption group for about seven years. She especially works with vulnerable kittens.
She developed her love for cats from her animal loving family in Erie, Pennsylvania. 
"My parents bought a puppy before they even had me," she said. "They got her about a year before I was born. When she passed away, my parents had three kids who were all crying on the floor, and Mom tried to console us. She said, 'wait a minute, when Daddy gets off work tomorrow, we'll go to the shelter and get a puppy and a kitten.' When she said kitten, we stopped crying."
Miller said her father tended to attract dogs and cats.
"We never once re-homed any of them," she said. 
She recalled growing up along Lake Erie.
"We used to spend many summers when we were kids, during the day a couple times a week we would pack a lunch and we'd hop the bus and go down to the peninsula to the beach," she said. "Sometimes on the weekends we'd go camping. Every Fourth of July, we could go camping. We started out camping in a tent and over the years upgraded to a 33-foot trailer."
Miller now cares cares for kids, as well as kitties.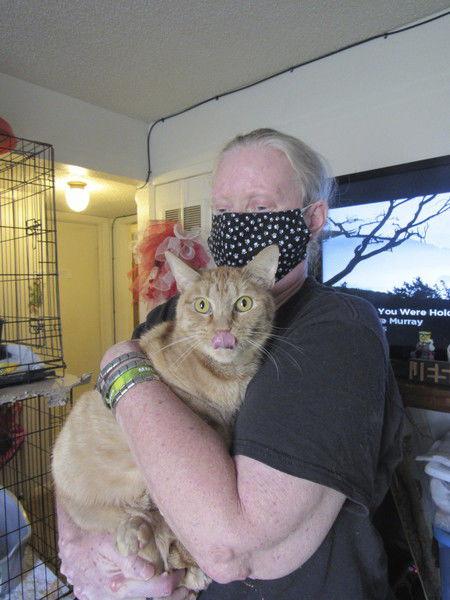 "It's something I had always done," she said, adding that she began babysitting at age 14.
She said she volunteered at God's Powerhouse nursery about 16 years ago. She said she cares for church children from birth to 5 years.
Fostering began
by chance encounter
Jane Miller's cat fostering work began about seven years ago with an abandoned kitten in a parking lot.
"I thought, 'He's going to get hurt,'" she said. "He was actually under a car when I pulled into Braum's. I had to actually drive back and get the milk I went in for because I brought him home first. I couldn't take him inside, and it was too hot to put him in the car. He was only about 6 to 8 weeks old."
Miller said she called Coins 4 Critters because the organization had helped her with a pregnant mother cat who was dumped.
"I called them and told them I'd foster if they would vet him and get him adopted out," she said. "That's what started the whole thing."
About a week after the kitten got adopted, Coins 4 Critters found another cat to foster, Miller said.
"I went from fostering one cat," she said. "And I started bottle feeding and taking in pregnant mamas."
Miller said the most cats she's fostered at once were three moms with litters, a total of 17 cats and kittens.
She said she usually keeps the kittens until they are 12 weeks old and two pounds. They' get fixed and taken to Petco or straight to homes for adoption.
Special place for
special needs cats
Fostering and adoption give cats a new chance at life, Miller said.
"We can't save them all," she said. "Every cat we save, we know they've got another chance at life."
Miller has taken in several of those cats. She said their special needs make them hard to adopt.
She recalled picking up Jasmine, an old tabby, from Muskogee Animal Shelter. 
"They had her at the shelter for probably three weeks or so, couldn't get her to eat much," she said. "We took her to the vet, and they did blood work on her and her white cell count was off." 
Miller took Jasmine home after getting her spayed.
"She recovered very quickly for an old cat," Miller said. "She'd be about 14 by now."
Jasmine and Whiskas, a tuxedo cat with four teeth, have dermatitis. Another cat has a lazy eye.
Tessa was semi-feral.
"She had been handled at some point in her life, but she had been tossed out and she had been abused," Miller said. "I still reach for her a certain way, even though she's been here for a year."
Linda was a 7-week-old kitten who had been hit by a car.
"With Coins' help, we took her leg off," Miller said. "She had to wait until she was 4 months old to do it."
Several cats have bonded, Miller said. 
"I can't separate them," she said.
A tender touch
with toddlers
Miller has been with the God's Powerhouse nursery for 16 years.
"I just watched one of those kids get married a couple of weeks ago," she said. 
She said she watches the children during the Sunday night services. Miller said she'd usually watch about three children, each under the age of 3, before COVID-19 prompted the church building to close for a few months.
"Usually, if we have a revival, we'll have two adults in there instead of just one, because we need extra eyes for that many kids," she said.
Miller said her biggest challenge is "just teaching them to share."
"I occasionally get toddlers who like to talk back," she said. "We come at them with gentle correction. We usually give them a good talking-to, and we tell parents it's something they can work on at home."
She said her reward is being able to "serve God and help people."
"Teaching the kids about Jesus is something I really enjoy the most," she said.
And, yes, the kids love Miller's kitties.
"Some of the kids at church want to come home with me. I think it's because I have cats," Miller said. "The first thing they want to see when they come into the nursery are the kitties on my phone."
Q and A
HOW DID YOU COME TO BE AN OKIE FROM MUSKOGEE?
"I was born and raised in Pennsylvania and I moved to Mississippi for about a year. Then I moved here with the help of an online friend." 
WHAT DO YOU LIKE BEST ABOUT MUSKOGEE?
"I like that it's just a small city. I like the people. People are generally friendly here. People are helpful. We help each other out."
WHAT WOULD MAKE MUSKOGEE A BETTER PLACE TO LIVE?
"If we had a mandatory spay-and-neuter law to take care of the stray population. That would help. There are some areas of town that need to be cleaned up. I know they're trying to work on that."
WHAT PERSON IN MUSKOGEE DO YOU ADMIRE MOST?
"Pastor Charley Ford. He's been a pastor for about 30 years. He's real. He's the same person in public he is at church. He's taught a lot of the principles of the Bible that I never knew. I learned a lot from him Biblically."
WHAT IS THE MOST MEMORABLE THING TO HAPPEN TO YOU IN MUSKOGEE?
"Saving a kitten that I thought would never make it. The kitten was pretty much on death's door, and this was a couple of years back. I thought for sure this kitten was going to fade out on me. I was doing all I could with him — fluids, antibiotics. I was dropper-feeding him. He went down three or four times. But this little guy bounced back up, and I was actually able to get him adopted out."
WHAT DO YOU DO IN YOUR SPARE TIME?
"I try to relax. I pretty much keep to myself. It's pretty quiet out here."
HOW WOULD YOU SUM UP MUSKOGEE IN 25 WORDS OR LESS?
"Muskogee is a good town to raise kids up in. People here are very sweet." 
MEET Jane Miller
AGE: 53.
HOMETOWN: Erie, Pennsylvania.
EDUCATION: Strong Vincent High School, Erie, Pennsylvania.
PROFESSION: On disability. 
FAMILY: Six cats.
CHURCH: God's Powerhouse Christian Center. 
HOBBIES: "I pretty much hang around the home. Watch TV."