Ed Ledbetter recalls dreaming big while growing up in Muskogee.
He said he wanted to be a truck driver. 
"I'd sit and watch them every single day, because we had a house across from a warehouse. They'd go in. They'd back up. They'd dump a trailer, make a Y turn," he said. "I'd have my toy trucks, and I'd make a super wide turn."
As he grew, his interests turned to what's inside the vehicle. He worked for several car stereo system shops in Tulsa and Muskogee before opening his own shop in 2012. At Certified Audio and Security, Ledbetter installs car stereos and tints windows. 
"I get all different customers," he said. "There might be an 86-year-old woman who wants some window tint. Or there may be an 86-year-old woman who brings her grandson in because he just started driving, and he might want a stereo."
Personal relationships are what's big in Ed Ledbetter's life now.
He joins friends in sampling various types of craft beers. 
"We enjoy each others' company.  We all work hard. We all are busy, so it's nice to get together, decompress," Ledbetter said. "It could be four of us. It could be 40 of us. It could be two of us."
He began coaching a T-ball team several years ago. 
"My son's team needed someone to come in and help," he said, adding that he's been able to build rapport with his players.
He also has been able to build relationships with his customers, other businesses, people in the community. He said he's seen relationships deepen during the COVID-19 pandemic. This included taking food baskets to people.
"People just come up here for no reason, give me a hug, or give me a sandwich," he said. "I live out a philosophy — do something for somebody that you know they might want. If it feels good for you, it might feel good for somebody else."
Building a reputation
Ed Ledbetter says many things influenced his choice of profession — someone with a fancy stereo, a truck with super loud music.
"I'm like, 'hmm, I wouldn't mind having some stuff like that.' So I started playing around with it," he said. 
Ledbetter recalled pitching his skills at car stereo shops in Tulsa. He found a place where he could earn up to $200 a day.
"I made a name for myself, working super hard," he said. "I liked seeing people smile when they figured out what I had done to their ride. They'd freak out, and I'd get to watch all that, and it's super nice."
Keeping that good name was the main challenge when Ledbetter set up his business in April 2012.
"The best thing one can have going for themselves is that people know who you are and you have a good name," he said. "They are mandatory. I've seen so many people open and close with no consistency whatsoever."
He said his favorite part of his business has been watching kids grow up.
"I've seen so many kids start out, 13, 14 years old, maybe even younger, coming around," he said. "Now they're in their 20s and it might be dads. That is spectacular to me."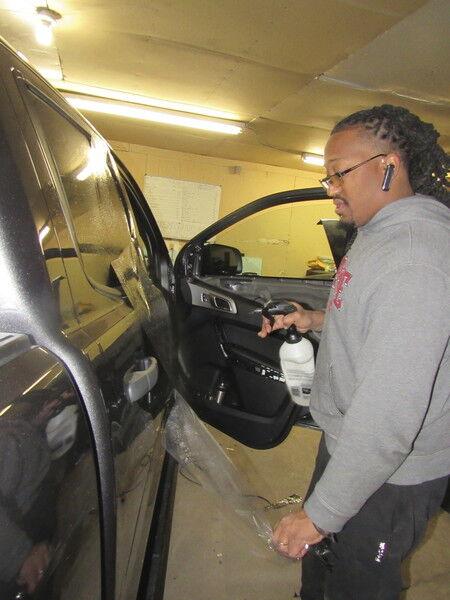 Making a connection
Building rapport with youngsters has been a key to coaching T-ball, Ledbetter said. 
"I have my own goofy style of how I do things," he said. "I play around with the kids, but I'm also 'You're going to do what I say when I say it.' When I build that rapport with them, I don't have to yell at them and make them do what I say."
His T-ball players are between 4 and 6 years of age, though he has coached children as young as 2.
"They're super, super cute," he said. "It was really hard to get them to listen, but at the same time, I wasn't worried about winning. I just wanted the kids to have fun. It still applies right now, but I kind of transitioned to the fact they need to learn about the game and fundamentals."
Ledbetter said the children are eager to listen to him because he's already built that rapport. 
"The best feeling when I'm coaching is when those kids take something I taught them and they apply it and see it for themselves and realize what they've done," he said. "A ball's hit from another team and they'd make a stop. Even if they don't get the other team out, I'd praise them and they'll 'cheese' for weeks."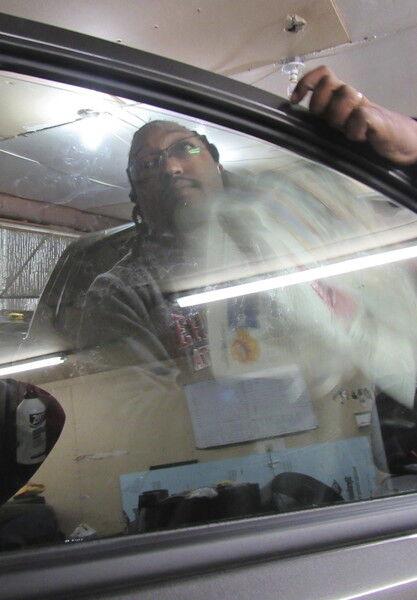 Size matters when when it comes to dogs 
Ledbetter finds a joy and a challenge caring for two great Danes. Rufus is 2 1/2 years, and Luna turned 2 last month, he said.
"Luna is what you call a merle, she looks like a cookies and cream shake," Ledbetter said, adding that Rufus is darker, with light, mottled spots.
He said he had never owned dogs so big. 
"Nikki just wanted them out of the blue for whatever reason," he said. "They were not cheap at all."
They're still not cheap.
"They eat, eat, eat," Ledbetter said. "Easily, without a doubt, a 50-pound bag of dog food in six days, easily."
He said he first didn't understand their appeal, but they grew (quite large) on him. The dogs come up to his waist. He showed how they are big enough to hug his neck when they stand on their hind legs.
"They learned how to walk big and tall, and they're falling everywhere, running into the wall," he said. "They're just big, dumb goofy animals. Big, goofy lap dogs, as a matter of fact."
Q and A
HOW DID YOU COME TO BE AN OKIE FROM MUSKOGEE?
"My family's been here forever. I think my grandmother's mother is full-blood Native. We've been here since forever."
WHAT DO YOU LIKE BEST ABOUT MUSKOGEE?
"The close-knit family atmosphere. It's like everybody knows everybody. Everybody really is helping everybody."
WHAT WOULD MAKE MUSKOGEE A BETTER PLACE TO LIVE?
"Obviously abolishing drugs. Me, personally, I think Muskogee is heading in the right direction and I like it. The way Muskogee is heading, I consider this like Broken Arrow, Jenks, as far as where I think we're going to end up. We've got good places to live, a good cost of living. We've got a lot of places to shop. We've got a lot of small businesses. We've got a lot of jobs. What is there not to like about here?"
WHAT PERSON IN MUSKOGEE DO YOU ADMIRE MOST?
"My mother-in-law, Melody Mitchell. That's my best friend. She just made all kind of ways out of nothing. She grew up without much, single mother working at a factory. She's the happiest friendliest person I know, by far." 
WHAT IS THE MOST MEMORABLE THING TO HAPPEN TO YOU IN MUSKOGEE?
Recalling Soundworld owner Ernie Lindsey — "We kind of built a relationship, kind of like father-son. I looked up to him as far as what he had been in the community. He looked at me as the up-and-coming guy. We did an interview for Channel 6. They wanted me to speak on their behalf, Ernie did. And before I left, his wife Joy, came and said 'OK, Ace, we'll see you later.' I wanted to give her a one-hand hug and she gave me a two-hand hug." 
WHAT DO YOU DO IN YOUR SPARE TIME?
"Hang out with the kids as much as humanly possible. Ride bicycles. Play with my great Danes, Rufus and Luna." 
HOW WOULD YOU SUM UP MUSKOGEE IN 25 WORDS OR LESS?
"If someone wants to make a decent life, a peaceful life and residentially have a decent living, it's a good place to go, it's a good place to visit."  
MEET Edward Ledbetter 
AGE: 38.
HOMETOWN: Muskogee.
EDUCATION: Harris-Jobe Elementary, West Middle School, Muskogee High School, 2001; Connors State College.
PROFESSION: Owner/operator of Certified Audio and Security.
FAMILY: Wife, Nikki; three children.
HOBBIES: "I'm pretty heavy in the craft beer community.... Traveling, I especially enjoy seeing new places. Nikki's mom lives in Daytona, and her best friend lives in Houston."