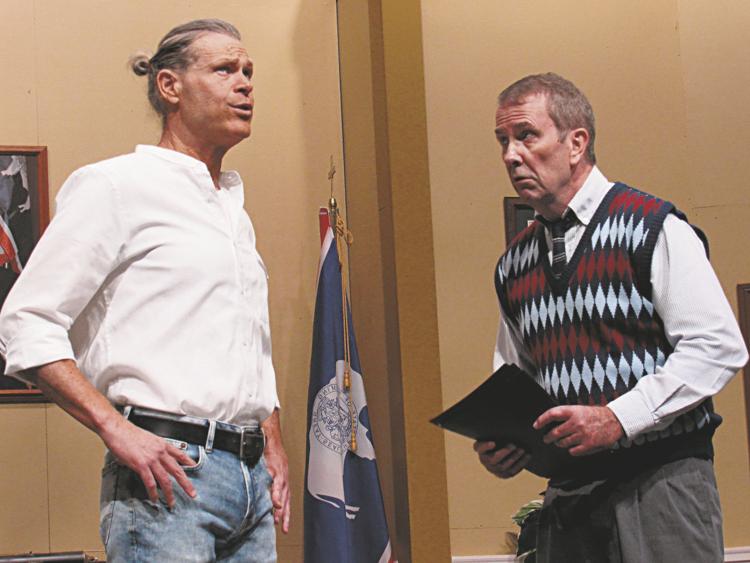 Muskogee Little Theatre's production of Paul Slade Smith's "The Outsider" combines a witty script, brilliant comedic timing, contagious energy and committed decisions, creating a hilarious experience.
The play involves an unexpectedly appointed — and reluctant — Gov. Ned Newly (Stan Cole) and the staff surrounding him as he attempts to step into a role he doesn't want. When Ned's bumbling swearing-in ceremony attracts the attention of famous political adviser Arthur Vance (Frank Godman) things quickly spiral out of control.
The entire cast tackles the heady material with sincerity and energy. Vance's excited embrace of political reality, delivered by Godman with absolutely perfect timing, frequently proves hilarious.
Reed Burk, playing Newly's Chief of Staff Dave Riley, builds chemistry with every other actor on stage, whether it's a burgeoning rivalry with Godman's Vance or a romance with reporter Rachel, played by Jessica Holloway.
Holloway's evolution from cynicism about her job as a reporter to enthusiasm for the work is a highlight, as is the comedic timing of her cameraman A.C., played by Aaron Willyard. The playful banter, which swings between misunderstanding one another to deadpan jokes about poker, between Burk and Holloway also deserves a mention.
Pollster Paige, played by Angelina Cummings, brings a business-like intensity to her scenes, and frequently proves the most grounded and relatable person in the room. She manages to partly steal a scene toward the end of the play just through making clear physical decisions.
Meanwhile, Cole's physicality and terrified delivery perfectly sell Ned's desire to simply go back down to his office and get on with a job he believes in, away from all the politics.
The excellent Chrissy Lewis Thomson rounds out the cast as the effervescent Louise Peaks, a chronically incorrect temp employee hired after Ned's unlikely ascent. Thomson is vibrant, and whenever she brings that incredible energy onstage the rest of the cast rises up to match her.
The ensemble work in "The Outsider," in fact, is the highlight of the show — a show that could have simply been a soapbox becomes an earnest and funny exploration of modern politics with a great message, spoken well.