Muskogee Police Community Resource Officer James Hamlin finds homeless people camped along the river or finding shelter under large trees. 
"We come out and visit these folks on a regular occasion, especially when the weather gets cold," Hamlin said. "Because we see people who literally live in the woods."
During their Tuesday rounds, Hamlin and Community Resource Officer Larry Stewart visited people living outside in sub-freezing weather.
Muskogee's AccuWeather website predicts that temperatures are not expected to get above freezing until Feb. 17. 
"When it gets this cold, we really need to keep an eye on them make sure they have flannels, make sure they have tarps, food, anything to keep warm," Hamlin said.
The officers visited Eddie Stone, who lives under a large evergreen in the northwest part of town. A tarp hanging from interior branches shields the man. 
After a brief chat, Hamlin told Stone "we'll come back to check on you, because it's going to get super-duper cold."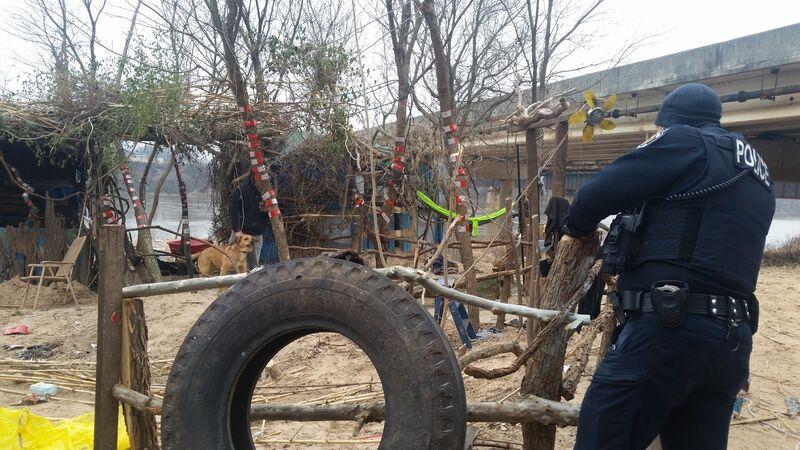 Stone said, "I've got blankets and stuff."
Stone said he served in the military and has lived in his space since September.
The officers keep blankets, mittens and other items in their cars.
"We can pass them out in case somebody needs something," Hamlin said.
Various churches and organizations help keep police supplied with things homeless people might need, he said. 
"Different churches will reach out to us at different times," he said. "If we have a church that's opened their doors for the less fortunate homeless, we'll pass it on to them."
Hamlin and Stewart visited people camped by an Arkansas River bridge Tuesday afternoon
Tyler Paden made a hut with a thatched branch roof. He has two dogs and a rooster.
"So far, it's not terrible. It's livable," he said.
Paden said he was a machinist for 10 years but had a gambling problem.
"I was not saving money," he said. "When COVID came along, I did not fully recover." 
The weather turned cold over the weekend, he said.
"I found some stainless steel sheets while I was walking, I guess they blew off a truck, so I was able to make a fireplace inside to keep the smoke out," he said, adding that he mainly burns wood he finds along the bank.
He said he has some canned food.
"Some people, I don't know who they're with, they brought blankets," he said. 
Across the river, the officers checked on a person by a sport utility vehicle, who preferred to stay snuggled and inside a tarp.
He said four or five families or groups might camp along the river.
"When we have an encampment like this, the city will get involved," Hamlin said. "We'll bring them trash bags. We want people to try to keep it clean as possible."
Some people find housing. Some find other encampments. Some people have few means, he said. "Some don't have any means at all."
Hamlin said he sees 10 to 15 homeless people around Muskogee regularly.
"But I know between the mission and us, I know of 60-70 people who are homeless right now, who are having some kind of difficulties in life to where they need some living assistance," he said, referring to the Gospel Rescue Mission.
"People don't really understand how people are living," Hamlin said. "Some people have mental issues, they aren't being treated like they should. And you have chemical dependency. We see different things of that nature that leads to homelessness."
Muskogee Police Information Officer Lynn Hamlin (James Hamlin's wife) said officers check on homeless people each day.
"We have people in the community who have made scarves and hats, brought gloves and tarps," Lynn Hamlin said. "There are a lot of times that a community resource officer will know where these homeless people are and they'll take these supplies. They always try to get them to come in where shelter is at."
She said the current temperatures make it hard to survive.
"Anything we can do to get them shelter is a top priority, get them out of the elements," Lynn Hamlin said. 
James Hamlin said people can help by bringing donations to the police department.
"This time of year, anything that will keep them warm, gloves, hats, blankets," Hamlin said. "We come across people who need food. Right now, the thing we push the most are tarps and blankets."