Jessica Young said she and family members escaped recent flooding with one vehicle and the clothes they were wearing. 
"It's just a real stressful situation, but we'll try to make the best of it," she said, adding that they spent three nights in a motel before coming to a Red Cross shelter on May 26.
As many as 20 Fort Gibson residents have come to the Red Cross shelter at First Baptist Church, said shelter manager Tommy Byerly. He said on Friday the number was down to 13.
"Some of them have been staying with family, some of them were power outages and they've got power restored," he said. "Most of them have been here since Saturday, the 25th."
Byerly said the shelter will be open as long as needed. The church has showers in men's and women's restrooms.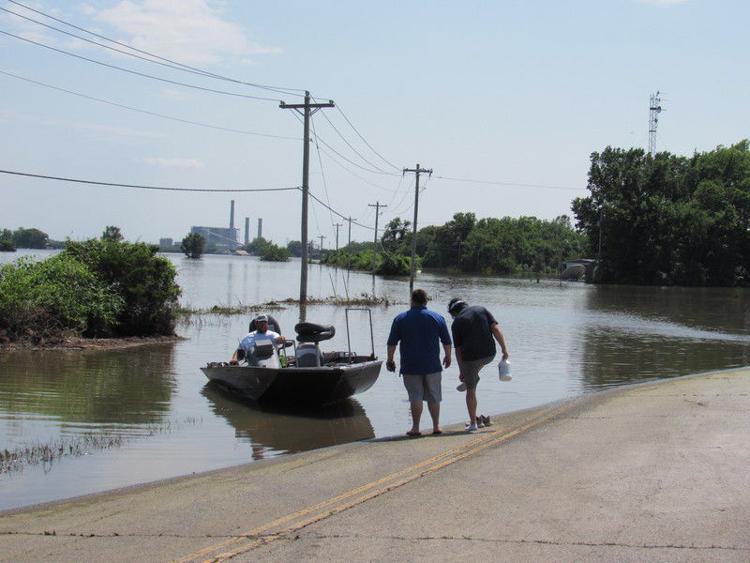 "The church has been wonderful," he said. "They have helped buy dinners, and we've been preparing them. We've had all kinds of donations from the community and from the church."
Young said the family will be at the shelter "until we can find a place to live."
"Or till our water subsides and we're able to work on our property," she said.
Young's father, Steve McManus, who lived next door, said their homes were completely underwater. He said on Friday that the water had come down by 3 feet.
"We have four vehicles underwater, two tractors," he said. "We saved our dog and three chickens."
McManus said their dog found refuge at a friend's house.
Young said she lived with her daughter and brother in one house. McManus lived with his wife, his mother and a son.
McManus, who works in the insulator/heater industry, said he has not returned to work because the two families need that one vehicle.
"I can't leave everybody stranded," he said.
Swollen waters from the Arkansas, Verdigris and Grand rivers continued to isolate Fort Gibson and Braggs from the rest of the county on Friday. U.S. 62 west of Lee Street remained blocked. Poplar Street west of town remained covered with water as far as the eye could see.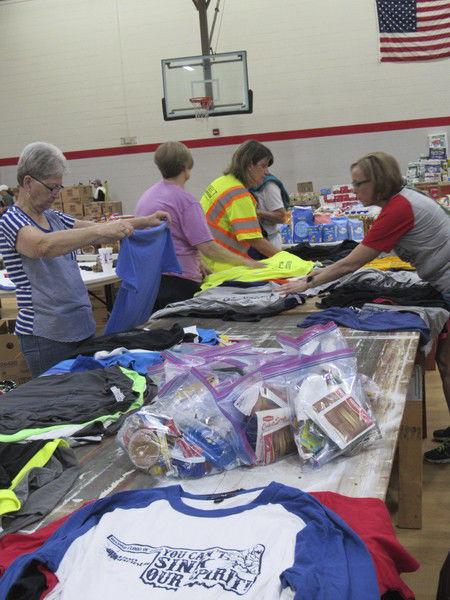 Volunteers at the Fort Gibson Emergency Resource Center have scurried to help people in Braggs and Okay, as well as Fort Gibson. Donated diapers, cleaning supplies, food, clothing and other items fill an old high school gym, making it look like a busy discount store.
Center manager Haley Norman said she could not figure how many have been helped.
"We're serving the town of Braggs. We're sending multiple loads a day to them," Norman said. "We're sending food, water, toiletries, medications. We're taking two large truckloads by rail."
She said about 20 volunteers help at any given time. The community has helped keep the Resource Center stocked.
"As soon as it gets full, it goes back out again," she said. "If we were to not get anything else, we would be out within three to four days because of the need."
She said she does not know how long that need will last.
"But we need to keep it up because we're here for the long haul," she said. "Right now, we're estimating a minimum of 30 days, through clean-up and rebuild."
She said the main need now is new packages of socks and underwear of all sizes, plus cleaning supplies. The Resource Center also has a refrigerator/freezer, so donations of milk, meats and eggs also are welcomed.
Bonnie Brown, who picked up food and supplies at the center, said she lost electrical power at her home for three days. She said all her food, including a deep freeze full of meat, was ruined. 
"Other than that, we're doing all right," she said. "It could have been a lot worse."
She said it feels wonderful the center helps people in need.  
Flooding prompted the Fort Gibson Chamber of Commerce to postpone the Historic Auto Show, originally set for June 7 and 8, until September.