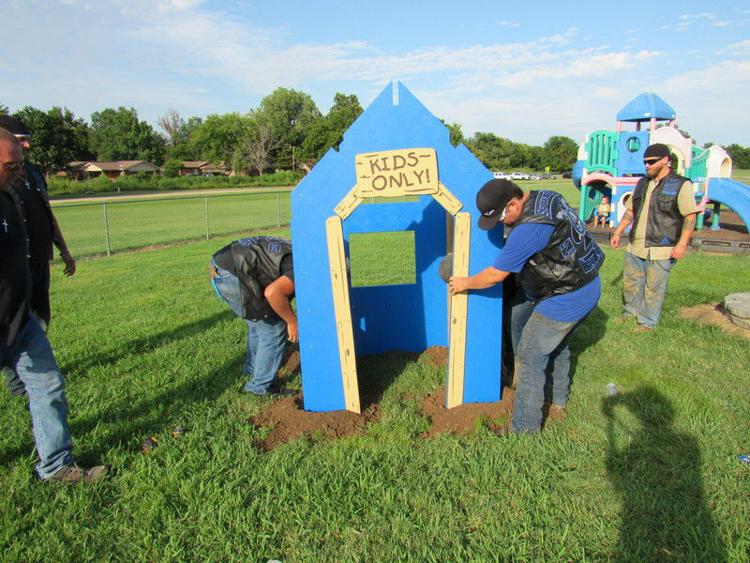 Fort Gibson Head Start students can thank a group of bikers in black leather for their new playground toys.
Members of the Seventh Sin Motorcycle Club, Three Rivers Chapter, spent the past week sprucing up Head Start's playground. They put up a playhouse surrounded by concrete. They installed toy bongos and chimes, moved a stage and trimmed trees.
Head Start children got to play on some of the new equipment late last week, said Shelly Rose, Fort Gibson family advocate for Muskogee County Head Start. 
"They were so excited to see that new stuff," Rose said. "They were out there playing the music and dancing on the stage. They were playing in the little playhouse. It was awesome."
The motorcycle club's work is one example of how Head Start appreciates and relies on volunteer help, Rose said.
She said Head Start parents visit classrooms and have breakfast with the children."They might help clean up at breakfast, or they might read a story, or just hang out on the playground," she said. "Or we'll send work home, like decorations, and the parents will make them. They volunteer for field trips. They do donations, bring juice or crackers. Or they'll even come in and do laundry for our classroom. They can take our blankets and wash them."
Fort Gibson Site Manager Laurie Gassaway said Head Start must prove volunteers and community investment in order to keep its federal grant. She said the federal government funds 80 percent of its program. The remaining 20 percent must come from community involvement.
"This is huge," Gassaway said, referring to the biker's work. "Our program utilizes volunteers because it makes our program part of the community."
Gassaway said one of the Seventh Sin Motorcycle Club members has a child at Head Start.
"He knows about volunteering and everything in our program," she said. 
Rose said she reached out to the club and told members about the playground needs.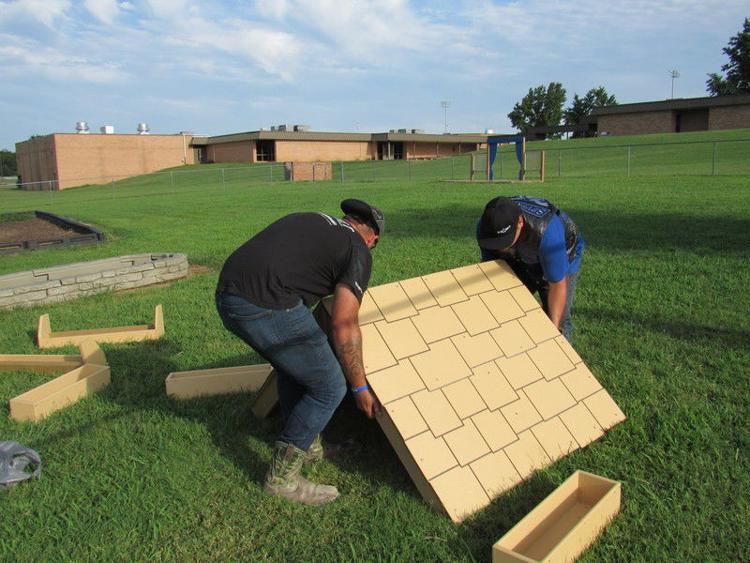 "And they got back to me the next day," she said. 
Motorcycle club members choose to remain anonymous, preferring to use only their biker names in public. According to the club's website, its mission is to nurture a family spirit among law enforcement, veterans, military personnel, first responders and other community servants "through a common interest in motorcycling."
The group also seeks to help schools, charities and other community groups.