A spaghetti bridge withstood 51.14-pounds of sand, even as Fort Gibson High School student Elijah Johnston kept adding more sand.
One more scoop into the bucket brought the load to 55.66 pounds before the spaghetti strands finally cracked.
However, that was good enough for Johnston and teammate Noah Carter to win the Spaghetti Bridge competition Wednesday at the 14th annual Math and Engineering Design Competition. The competition is sponsored by the Muskogee Area Education Consortium.
Dozens of students from 13 schools entered the Engineering Competition, held at Muskogee Civic Center. The math competition, which was held online, drew 195 contestants.
Carter said he feels good winning the spaghetti bridge competition, something he said he didn't expect.
"I just thought there'd be a lot smarter people here," he said.
While many competitors made bridges with truss supports, Johnston and Carter made a solid I-beam bridge.
"You know how most bridges and buildings are made of I-beams," Carter said. "We thought we'd take an I-beam and made that as a bridge and add a top layer to it."
Johnston said they kept adding glue to the spaghetti to make it extra firm.
Carter said it took them about a week to build the bridge.
"We're in robotics, and we kind of wanted to work on the robot rather than this," he said. "We built this in a week, one day of the week, and then we decided 'okay, that's good enough,' and we went back to work on the robot again."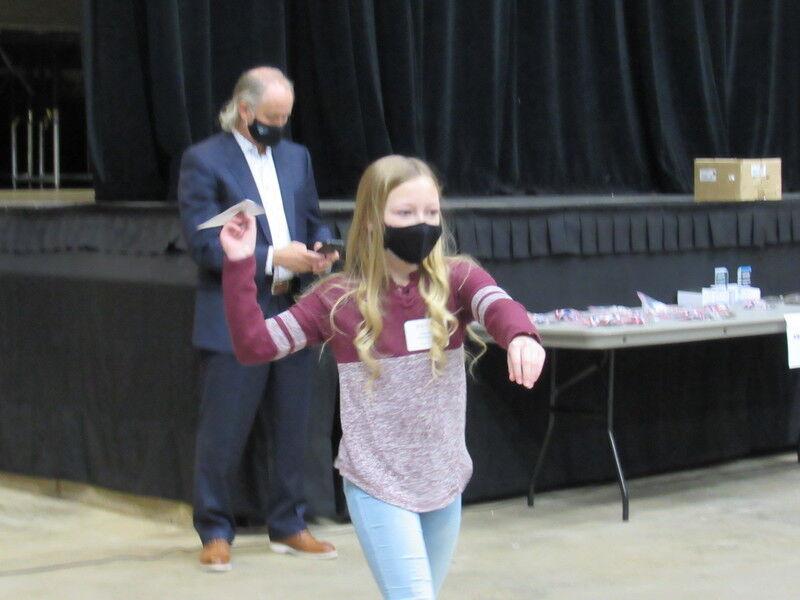 Contestants who didn't fare as well said they learned things.
Brighton Davis and Kiera Cove of Muskogee's Sixth Grade Academy built an arched truss bridge. It held up to 3.6 pounds of sand.
Brighton said she learned the bridge must be "more structural."
"It needs to be stronger," she said, adding that she and Kiera built the structure out of six to eight spaghetti strands.
"We put them together with glue, which held them together," Brighton said. 
Sixth-grade academy classmate Keaton Davis entered the paper airplane competition.
"It went 15 feet, which I don't think was pretty good," Keaton said. "My whole airplane spun out in the middle. I thought it would at least go all the way, but because it spun out, it went less."
Hilldale sixth-grader Ava Ford said she was satisfied with her paper airplane flight, which went more than 20 feet. 
She said she folded two pieces together to "make a real firm airplane."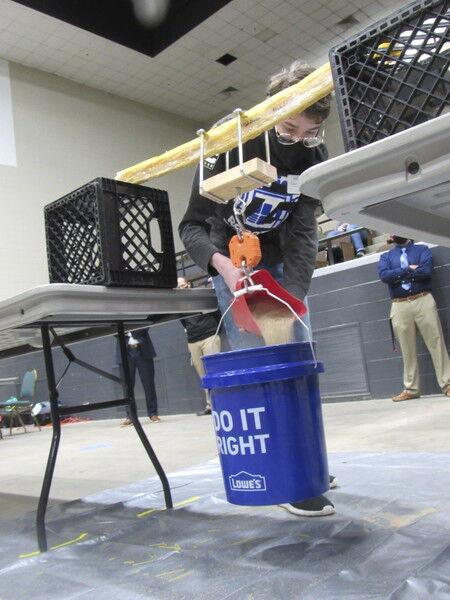 Ava said she added a paperclip to the bottom because "it was a little top heavy, so I tried to even it out."
Charlie Rosson and Cruze Colina of Sadler Arts Academy were the overall champions of the paper airplane competition.
Concern over the spread of COVID-19 prompted the consortium to hold the math competition virtually earlier in February, said Tony Pivec, superintendent of Indian Capital Technology Center. The competition was held at participating schools and proctored by teachers, Pivec said.
Ice and snow over the past two weeks prompted the engineering competition to be postponed twice, he said. On Wednesday, portable privies were set up outside the Civic Center because of water problems inside.
"This date was in question, too, because the city had pipe breaks, but they were able to accommodate us very well," Pivec said. 
Wednesday's competition drew 41 in airplane design and 42 in spaghetti bridge building.