PORUM — New York resident Shannon Leigh O'Neil recalls one Porum School library book that had an impact on her.
"When I was in high school, they had a lot of art technique books and how-to books, but they only had one art history book and I checked it out," the 1984 Porum High School graduate said. "It was 'Symbolist Art' by Edward Lucie-Smith. That book changed my life. I majored in art history as an undergrad, and I went to graduate school and I have a graduate degree in art history."
O'Neil and other former students are making an impact when the school needs it the most. After hearing about conditions in their unfunded school library, former students donated at least 238 new books to the library. And more are coming. 
"It's such a blessing," said former Porum school librarian DeEdra Anderson, who teaches English. "The response has been amazing." 
Anderson said the donations started coming after she posted a notice about a recent book fair on Facebook. She said she happened to mention that library books were in poor condition.
"The state allowed schools not to fund libraries if they needed the funds somewhere, like salaries," Anderson said, adding that the library had not been funded in 10 to 20 years. 
"We had to leave our books on the shelves," she said. "They're torn, and some paperbacks had to be taped or glued." 
One former student who saw the post was Randal Tatum of Skiatook.
"I learned more at that school with those teachers, who had so few resources, than I did any other places where I went to high school," Tatum said, adding that he moved 40 times before he was 18.
Tatum said he sent the school an Amazon Books gift card because he felt it was a fast way to get donations.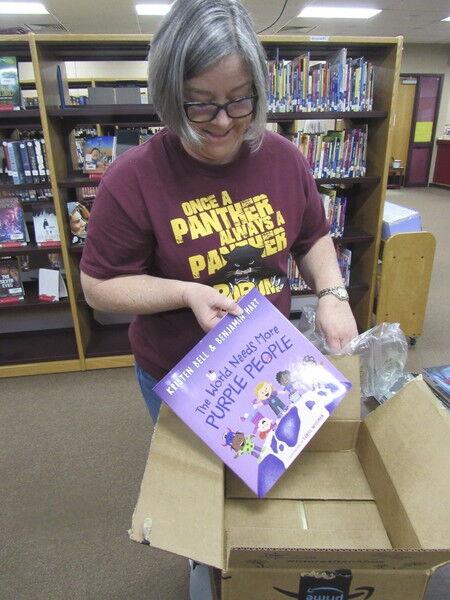 "I had hoped and kind of prayed for them to get $500 or $600 in books," he said. "Never in my mind did I think that it would blow up the way that it did."
Anderson said the library received 238 books by Monday and Tuesday.
"That's a really big deal," she said. "Books nowadays, a paperback could cost $10 to $12, $13. And many of these are hardcover books, so you're talking abut $18 to $22."
Books continue to come in, she said on Thursday.
Assistant librarian April Harrison is sorting and cataloging the books.
"We've gotten stuff from Nevada, Washington, everywhere," Harrison said. "It's been fun. We've been trying to scan the codes on them to send thank you's through Amazon." 
The library needed the new books, she said.
"When you don't have a budget for years, the only money we get is from book fairs," Harrison said. "I get a lot of paperbacks. But to get hardback books, it's a big deal because hardbacks are so expensive."
Tables are stacked with new books. Harrison said they include new titles and new series.
"We've got old favorites, like when I was a kid," she said. "We're getting new things every day."
Some people donated used books in good condition.
Anderson said she's eager to see how students respond to the new books.
"I have students in high school that have read most of our fantasy series. So, we're going to have new series for them to read," Anderson said. "We're going to be able to take those worn, torn books and replace them with hardcovers of those same books."
Such books can be life-changing, O'Neil said. 
"It completely shaped our life paths, those books," she said. "It's so important those kids have the reading material."