FORT GIBSON — Senior Madelyn Cook had more flowers than she could hold after being crowned All-School Homecoming Queen on Friday evening.
She already had a small bouquet of roses she held as the Fort Gibson Special Olympics queen. Then, her father, Greg Sparks, handed her the All-School Queen bouquet, then replaced her small tiara with a larger one. She demurely thanked friends and family who loaded her arms with two more bouquets after the ceremony.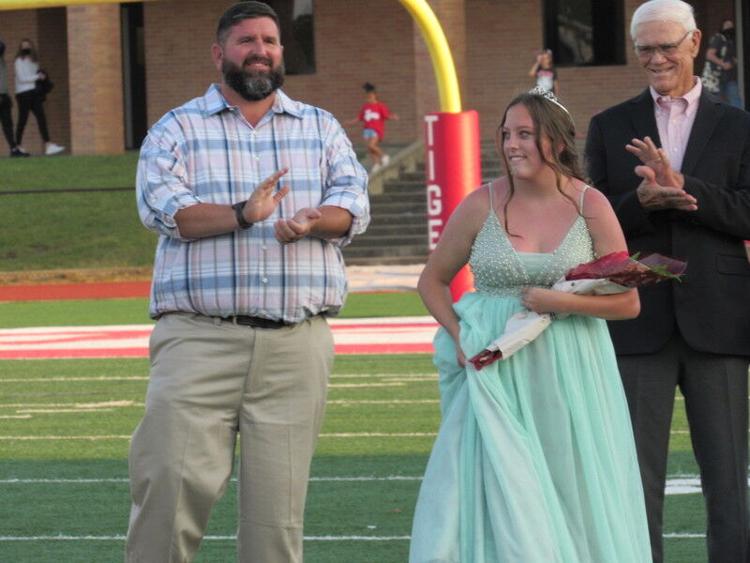 "I have more flowers at home," Cook said, adding that she has no idea where to put the flowers, "but I'll find a place." 
Cook was one of 31 queens of Fort Gibson High School organizations, sports teams and extracurricular activities. The ceremony was held at the Fort Gibson football stadium before the Tigers' game against Muldrow.
Cook's mother, Peggy Sparks, said preparing for the special night was an all-day affair, which included going to the beauty shop to get Cooks' hair and make-up done. Cook said she chose her own coronation dress, a flowing lime sherbet-colored gown with a beaded top.
She had to be ready for Fort Gibson's homecoming ceremony Friday afternoon at the football stadium. 
In past years, Fort Gibson celebrated homecoming with a parade through downtown. However, concern for COVID-19 turned this year's parade into a procession around the stadium track.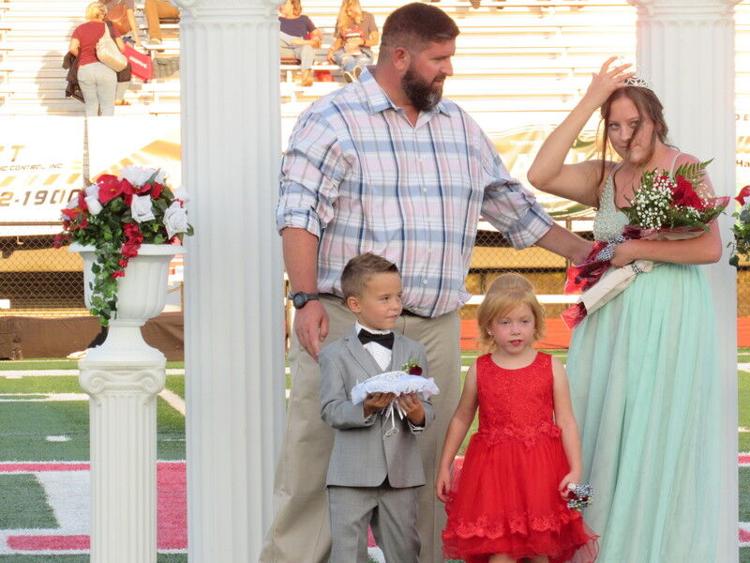 The procession featured small floats for the freshman, sophomore, junior and senior classes, as well as the band, football team, then the cheerleaders. High school, middle school, Intermediate Elementary and Early Learning Center students had designated spaces around the stadium. Parents of the homecoming royalty were to sit in the middle. 
Cook's escort for the afternoon was Dalton Reed. 
Peggy Sparks said she is proud of her daughter's honor.
"The whole school votes on it," Sparks said. "They voted her as queen."
Cook competes in all sorts of Special Olympics sports, including bowling, swimming and track and field, Sparks said. Cook also is active in the United Methodist Church youth group.
Cook said she enjoys reading when she's not at school. She said she plans to find a job or attend the Oklahoma State University Institute of Technology after she graduates from FGHS. She said she wants to study culinary arts.