HASKELL — Masked high school students passed an automated temperature scanner as they walked into school Tuesday.
One or two stopped, looked at the video screen to see if they were okay.
Masks and temperature checks are some of the precautions the school district is taking to stem potential spread of the novel coronavirus.
Haskell began face-to-face instruction Tuesday, six weeks after the normal start of school Aug. 24.
Middle School/High School Principal Rodney Luellen said the Haskell Board of Education decided in August to delay the start of face-to-face instruction to Oct. 6.
"Because COVID was so bad," he said. "We just tried to do anything we could do to keep our students safe."
According to Oklahoma Health Department, Muskogee County posted 670 cumulative instances of the novel coronavirus by Aug. 25. On Tuesday, the health department reported 1,987 cumulative cases, including 317 currently active cases.
The health department reported 105 cumulative cases, including 13 currently active cases within the city of Haskell on Tuesday.
Superintendent Rusty Harris said the district began the school year with distance learning in August. 
"And our intent was to return to school as quickly as we could," Harris said. "Then, a couple of weeks ago, we made the decision to return to face-to-face, but still offer virtual or blended options, as well."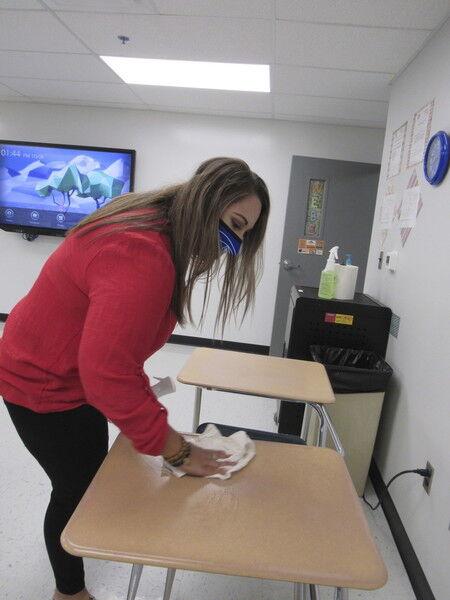 The district offers students three learning options:
• Blended learning — Students learn off campus, but follow class lesson plans using Google Classroom. It is intended for students in high-risk categories or have had close exposure to COVID-19.
• Virtual learning — Completely online using Odysseyware online curriculum. 
• Traditional face-to-face learning.
Harris said 40 middle school and high school students opted for virtual or blended learning. He said he didn't know how many elementary students opted for virtual or blended learning, "but very few." 
The district has 720 students.
Luellen said students and staff are required to wear masks on campus.
He said the high school and middle school didn't have any issues with students not wearing their masks when on-campus learning resumed Wednesday.
"Everyone's excited to be back," Luellen said. "March 12 was the last time we've been together."
Last spring, the Oklahoma Department of Education closed all school districts to on-campus learning and required them to finish the 2020 school year with distance learning.
Haskell set up hand sanitizing stations throughout the high school, middle school, Mary White Elementary, cafeteria and sports facilities, Luellen said. 
Disinfectant mist is sprayed throughout the school, classrooms, desks and lockers after each class day. Teachers use disinfectant mist after each class period, he said.
"In our cafeteria, we skip seating. Students can't sit right beside each other," Luellen said. "When they're standing in line, they're two arm lengths apart. We try to be."
The district follows the state health department's alert system to decide what procedures to take. Muskogee County was included in the "moderate" category, or more than 14.39 daily new cases per 100,000 residents, on Friday.
The pandemic has impacted some extracurricular activities. Band Director Casey Webb said the marching band will not participate in any contests this fall.
"Some contests are canceled and some are in places I know they're not taking precautions," Webb said.
The band is marching during Haymaker football halftimes, she said.
The winter guard flag team could participate in some onsite and virtual contests, Webb said.