Muskogee High School students shared several concerns about proposed legislation that, if passed, requires students to pass the United States naturalization test in order to graduate.
"One thing that makes me nervous about it is that even though we worked real hard all year every year, and the fact that it's one test, and you don't get all the questions right determines whether you graduate or not," said junior Lyndsey Eckerson. "That's really scary to me."
Jack Reavis' Advanced Placement American history students discussed Oklahoma HB 2030 during a Wednesday afternoon class. The bill proposes that students must pass the U.S. naturalization test, which covers civic matters, in order to graduate from a public high school.
If passed and signed into law, the bill would take effect starting with the 2022 freshmen. So, students in Reavis' class on Wednesday would not be affected.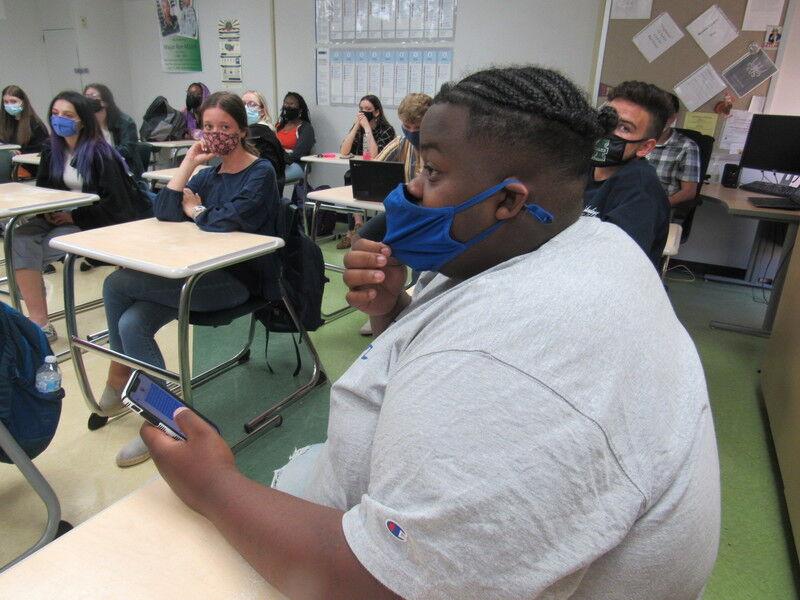 Reavis said the rhetoric justifying the bill says passage would "create a more engaged electorate."
Student Kate Hewitt said she could understand the intention to get students more civically involved.
"But I don't think holding the graduation over a kid's head is the way to go about it," Hewitt said.
Classmate John Fernandez said he found it interesting the bill did not address a civics curriculum.
"We have a semester of Oklahoma history in the ninth grade and a semester of civics in the ninth grade," he said. "What if we just had a year of Civics?"
Miles Givens said the proposal is stupid, but he does see an advantage.
"Maybe this will teach people how hard it really is to gain permanent citizenship," Givens said. "Like people who are rude to immigrants who are just here to get a better life, maybe we'll see how hard that test really is and we won't do very well on it either.
Eckerson said the test could help make people "more intelligent, informed voters, instead of voting for the candidate the media believes in more."
"At the same time, that's a whole other test besides what we're taking," she said. 
Class members are to take the Oklahoma end of instruction American history text next week. 
"When you pass the test next week, do you have to pass another test besides that test to graduate," Reavis asked his class.
Students said they did not.
"If you're holding somebody accountable for what they're doing, I can see the point," Reavis said. "But should they hold up somebody's graduation, when they've already established all these assessments to determine you're already competent?"
He said there is no plan to integrate the naturalization test into the history assessment. He said the naturalization test is given orally. 
Students also delved into the bill's details. For example, the bill stipulates that the naturalization test be required for graduation from a public high school accredited by the state board of education.
Reavis said such wording would not apply to private or charter schools that get state funding, but are not accredited.
One student said such a requirement is discriminatory.