People can get to know their each other and enjoy hot dogs during National Night Out events this Tuesday in Muskogee, Wagoner and Fort Gibson.
"National Night Out is a community-building campaign that fosters public-community partnerships," said Mariah Crutcher, prevention educator with Neighbors Building Neighborhoods. "We want all the people to get together and have a good time, and I think well have a good turnout."
Neighbors Building Neighborhoods will host two Okies Neighborhood National Night Out events from 6 to 8 p.m. Tuesday, one at Robison Park and one at Rotary Park. The events also are sponsored by the Muskogee Community Anti-Drug Network and Muskogee Police Department.
The annual event was not held last year because of concern for COVID-19, she said.
"After what we went through last year, this is a good time for us to come out and have a good time," Crutcher said. "We still want people to respect each other with social distancing and keep six feet of distance." 
Muskogee County Health Department will spend an hour at each park to offer free vaccinations to fight COVID-19.
Timothy Baptist Church will bring Shorty, the Snow Cone Bus, to each park, she said. 
Hot dogs and refreshments will be served to the first 500 attending each Muskogee event. 
Officer Ron Mayes will be a disc jockey at the Rotary Park celebration, and Mayor Marlon Coleman is expected to visit the park.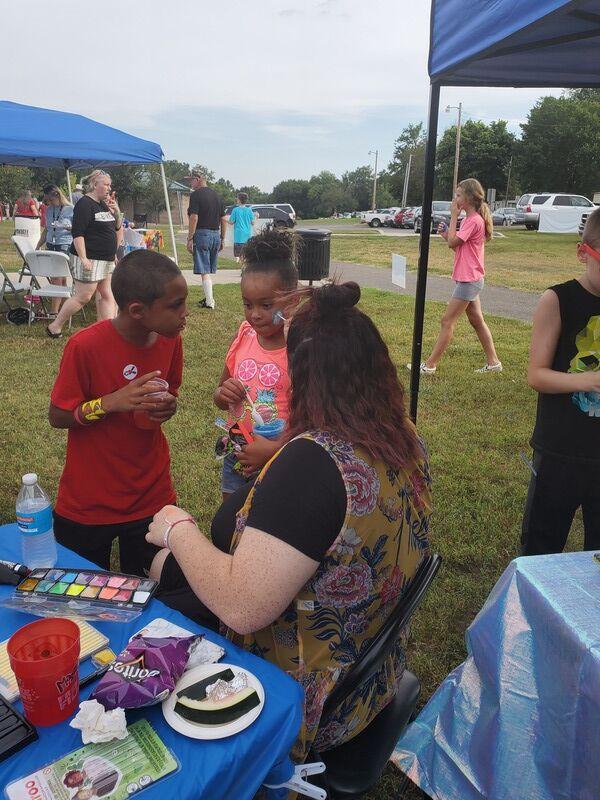 Agencies including Green Country Behavioral Health, KIBOIS and the National Association for the Advancement of Colored People will have information at Rotary Park.
Robinson Park will feature music by DJ Duan Morris and singer Micheal Rappe.
Hoopes Hardware will host skateboard demonstrations and giveaways at Robison's Midland Valley Skatepark, Crutcher said. 
Agencies at Robison Park include Court Appointed Special Advocates (CASA) and Youth Volunteer Corps.
Fort Gibson's Back 2 School and National Night Out, 7 to 9 p.m. Tuesday at the downtown gazebo, will feature a giveaway of 110 backpacks with school supplies.
Fort Gibson Chamber of Commerce Director Kim Martin said local organizations and businesses generously donated school supplies and backpacks.
"We've had numerous small businesses come forward and individuals who did not have children to buy school supplies for brought items to the chamber," she said.
Free hot dogs, chips and water will be served.
Martin said the event can help "strengthen the bond between our first responders and our community, especially our youth right now."
Boone Mendenhall will sing in the gazebo. 
Firefighters and police officers will be at the event to intermingle, she said.
"We'll have a water balloon fight where the kids can throw water balloons at some of their favorite people here in town," Martin said.
Wagoner's event, 6-8 p.m. in Maple Park, will feature a demonstration of Wagoner Police Department's canine unit, Wagoner Police Chief Bob Haley said.
There also will be a medical evacuation helicopter and representatives from police Wagoner Fire Department and emergency medical services, he said.