Fifth-graders play all sorts of ball games in Hilldale Elementary's new gym — all at the same time.
Some attempt basketball field goals at two hoops. Others bop a huge ball over a volleyball net. A row of students play a game of catch along the sidelines.
Students have had more room to play since early October, when the gym was deemed ready for use. When the school year started in August, the basketball court's hardwood floor treatment hadn't settled and new retractable bleachers had not been installed. 
"I have a lot more space without kids crashing into each other," physical education teacher Daniel Llamas said. "A big thing is we have AC and heat now. "It's just a lot brighter. It makes the place a lot more energetic than the old one."
Sun shines through eight north-facing windows — enough to spell out HILLDALE to the exterior.
The new gym features a full basketball court with retractable bleachers on each side. There also are four more basketball goals, two on each side of the court. 
"I can have two basketball games going at a time," Llamas said. "I'm hoping to get some new volleyball poles, so I can have two nets of volleyball going on at one time."
Assistant P.E. Teacher Denice Huggins said the four sideline goals can be lowered to make it easier for kindergartners or first-graders to score.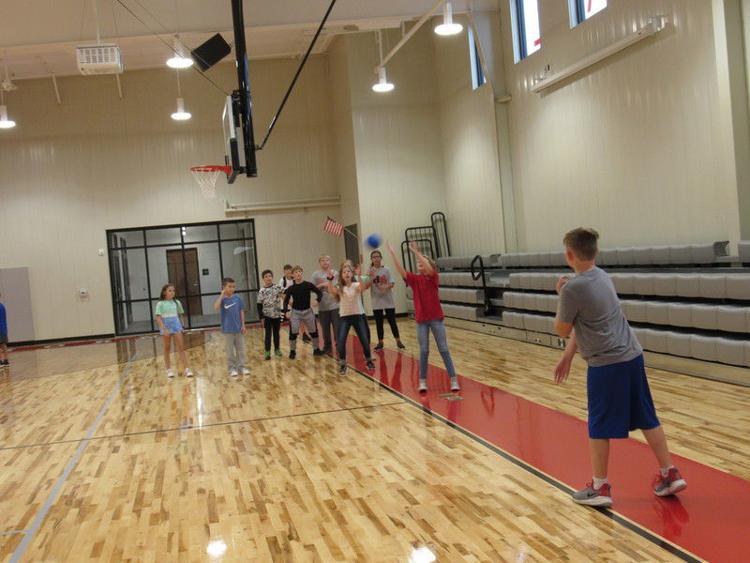 "We also have better access to the bathrooms and water fountains," Huggins said.
Llamas said "You can keep an eye on them from in here without having to wonder what they're doing out there."
The new gym also has a speaker system. 
"We used to roll out a sound system on a cart," he said.
Retractable bleachers enable the school to have more community events, such as a Veterans Day observance in November, said Elementary Principal Patti Bilyard.
Bilyard said there also are dressing-room type facilities.Llamas, who also coaches high school wrestling, said dual wrestling meets can be held at the gym.
"For a first-year program, this is kind of a perfect venue. We can make it look a lot more filled up. We can bring the mats over," he said. "We have a concession stand, if we do host events."
The new gym is part of the Elementary School's expansion, funded by a $15 million bond issue approved by voters in 2017. The expansion also included a new entrance, offices and fifth-grade classrooms.