INTRODUCTION
A brain freeze determined Chris Ferrell's destiny when he first took school band lessons.
"My brother played trombone, and I thought I was going to play trombone," Ferrell said. "When they passed out the piece of paper and said what instrument are you interested in, I couldn't remember the word trombone, so I just wrote down the word drum."
Music and family played key roles in  Ferrell's life growing up in Muskogee.
"My mom sang in a choir at church, Riverside Christian, a little church. All my sisters were in choir and played piano. My brother was in band, also in choir," he said. "We had a piano growing up, so I always gravitated toward that. I took piano lessons when I was young. Took guitar a little bit."
He said he began drumming in sixth-grade band. 
"It was my main instrument all the way through college," he said. "I rotate through different instruments, but my first love is drum."
Ferrell earned a degree in music education at Northeastern State University. He taught at Stilwell and at Muskogee High School for 10 years before coming to Oklahoma School for the Blind 12 years ago.
He has freelanced as a drummer, but now drums in the Boulevard Christian Church praise band.
A cherished time came when Ferrell could share the music with a new generation during Boulevard Christian's Christmas Eve Service.
"My son plays the saxophone," he said. "So my son got to come in and play. I get to sit in back, because drummers usually sit in back, and I get to see my son playing bass, another son playing sax, and my wife's up there at the front of the stage singing. Those are super special times for me, that we can all as a family use the talents God has gifted us with to praise him."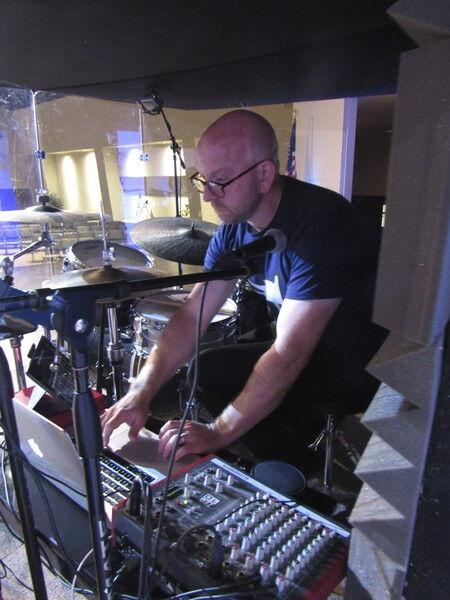 Challenges of percussion
As a drummer, Chris Ferrell is in unique company.
"We definitely have their own way of thinking," he said. "If I was talking to a piano player, I would talk more about chords and rhythms and stuff. If I'm talking to a drummer, I would say. Hey, play something like this 'doomp-doomp-doomp, kapow, kapow," and they'd know exactly what I was talking about."
Percussion involves more than rhythm and beats.
"You're using all your extremities at once," he said. "It takes a lot of focus to play well."
Any type of percussion can be a challenge, he said.
"Xylophone is almost like playing the piano without being able to feel it," he said. "You have to hit it with your mallets. On a piano, I can feel where the black keys are, so I know where the white keys are. With a xylophone, you've got to use your peripheral vision and play at the same time. 
Playing drum rolls on a snare drum is like learning to play a basketball, he said.
Kettledrums require really good pitch and a really good ear, he said.
"You change notes often in a piece, and you don't have a pitch pipe," he said. "You've got pedals that tighten or loosen the tension around the (drum) head."
Creative teaching for visually impaired
Ferrell said teaching music at Oklahoma School for the Blind combines his love of jazz with his heart for people with disabilities.
He said he likes OSB's focus on jazz.
"There's a little bit more freedom," he said. "Learning how to play a musical instrument is like learning to talk. When you're little, you're not thinking about how it a word is spelled, you're imitating. Music should be taught that same way, you should learn to imitate, then learn to read."
Ferrell said teaching music at OSB involves "creative problem solving every day."
"You walk in, and there's curriculum that's been developed for sighted students," he said. "You have to take it to where it's accessible to visually impaired students."
Some students can see large-print music or high-contrast music, while others rely on Braille, which uses sets of embossed dots instead of a five-line staff.
"The top row will tell you what the note is, A through G and the bottom two will tell you if it's a whole note, quarter note," he said.
OSB competes against 2A public schools such as Gore, Watts, Shattuck and Mooreland.
"They have won the Class 2A State Championship for the past four years," he said. "We were shooting for a fifth, then COVID jumped in and that kind of ended the season."
Music as a worship tool 
Ferrell has a soundproof booth on the Boulevard Christian Church stage. 
Drums tend to get a little loud, he said. As a result, plexiglass surrounds his drum set, which has a carpeted ceiling and acoustic padding behind him.
He joins the Boulevard Praise Band for every Sunday worship. The band doesn't follow sheet music. 
"It's more, here's the song, here are your parts," he said. "Someone might sing your part, or give you a video of your part. We pretty much play by chords."
Ferrell said the Praise Band's role is definitely to lead singing in worship, not performing.
"We're just trying to encourage the congregation in worship," he said.
He said he keeps an easy beat during the music.
"It's pretty simple, pretty straightforward," he said. "Just trying to get out of the way and let people worship. Try not to be distracting."
Improvising percussion riffs wouldn't be appropriate, he said. 
Ferrell joined Boulevard musicians backing up the church's "My Deliverer" performances.
"Honestly, that's what I'm trying to do all the time, is just use my drums to accentuate or accompany what's going on," he said.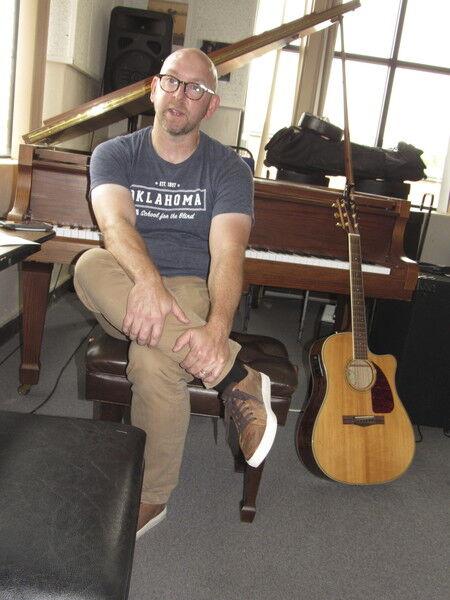 Q and A
HOW DID YOU COME TO BE AN OKIE FROM MUSKOGEE?
"I was born and raised in Muskogee, actually grew up a mile from the School for the Blind, where I work now. I live very close to where I grew up. I went to college, came back after college."
WHAT DO YOU LIKE BEST ABOUT MUSKOGEE?
"The people. We're a city of diversity, and I love that about Muskogee. And I love the fact that the School for the Blind is here. This school does amazing things for blind students in Oklahoma."
WHAT WOULD MAKE MUSKOGEE A BETTER PLACE TO LIVE?
"Investing in children is always in the best interest of any community. Anything that would create more jobs and more economic opportunities would always be good for Muskogee."
WHAT PERSON IN MUSKOGEE DO YOU ADMIRE MOST?
"Definitely my wife, Janet. She's very sweet and loving and beautiful, extremely talented. She puts up with me. I definitely married over my head for sure."
WHAT IS THE MOST MEMORABLE THING TO HAPPEN TO YOU IN MUSKOGEE?
"There's been a lot of great memories in Muskogee. But I'd say getting married. I married the love of my life when I was 19. Of course, my kids being born has been great, and being able to do music with my family."
WHAT DO YOU DO IN YOUR SPARE TIME?
"My wife and I are really involved with the worship ministry at Boulevard. We love spending our time doing that and playing music. Every once in a while my buddies would drag me out to the golf course. I'm a terrible golfer, but I do love it."
HOW WOULD YOU SUM UP MUSKOGEE IN 25 WORDS OR LESS?
"A town full of great people and blessed with diversity."  
MEET Chris Ferrell
AGE: 48.
HOMETOWN: Muskogee.
EDUCATION: Tony Goetz Elementary, Alice Robertson Middle School, Muskogee High School, class of 1990. University of Central Oklahoma, earned degree in music education at Northeastern State University.
PROFESSION: Music director, Oklahoma School for the Blind.
FAMILY: Wife, Janet; two sons, Collin and Foster.
CHURCH: Boulevard Christian Church.
HOBBIES: "Pretty much music is what we do for fun. Often, we'll grab a guitar. My wife sings and I play. She's an avid gardener, so that makes me a gardener by default."