INTRODUCTION
A rhombic dodecahedron sits on on Collin McCawley's desk at Muskogee High School's FabLab. 
It's like a ball made of 12 slanted squares. McCawley made it in the FabLab, where he is the manager.
"My intent was for it to become an infinity mirror, but that was too simple," he said. "So I made it a complicated geometric shape, part of my design process."
McCawley has often gone for things that challenge him.
After graduating from home school at 15, he worked with his father until he was old enough to join the Navy.
"We went to talk to the recruiters and they said we have this opportunity where you can get into nuclear power," McCawley said.
He joined in February 2001.
"They had other things in other branches,"  McCawley said. "But this added value to me as a person while still serving the country."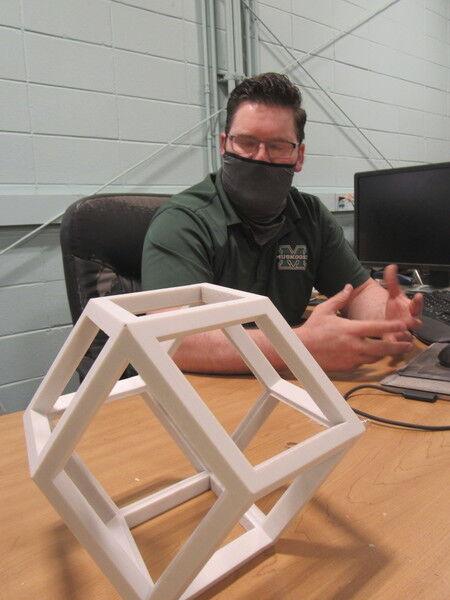 McCawley served two and a half years in a fast attack submarine's engine room. He had all sorts of responsibilities.
"Surface vessels have their own fire department and their own people who fight fires, if there's a leak somewhere, they'll have a techs go in there to fight the flooding," McCawley said. "But in a submarine, you're all of that."
After the Navy, McCawley did heating/air conditioning/ventilation work. One job had him going all over the country and staying on call for 365 days a year.
"So my wife would be like it's crazy that you're in 12-degree weather working on air conditioners," he said.
Several years ago, McCawley took the FabLab job, which lets him stay in Muskogee.
He unwinds by playing drums, something he learned as a tot.
"When I was really tiny and small enough to bounce, my dad would sit me on his knee and have me hold his fingers like that was drumsticks," he said. "I thought that was the coolest thing ever."
Serving on a submarine
Collin McCawley said his main duty on the submarine was to stand watch in the engine room.
"We basically just maintained the reactor plant and the propulsion plant," he said. "A submarine is just like a car. It's got a transmission. It's got engines. It just uses a different kind of fuel — a much more energy intense fuel. You have to watch to make sure the bearings aren't overheating and the steam systems have the right pressures."
He said the submarine had just gotten off of a wartime deployment in Iraqi Freedom when he got on.
"We also would keep an eye on shipping lanes to make sure that pirates weren't taking shipping lanes," he said. "There are all kinds of international commerce missions that you'd go on. The sub fleet is also a big intelligence gatherer. They do lots of SEAL delivery."
Still, he said submarine work was much like factory work. 
Sometimes his shift involved six hours of maintenance, six hours watch and six hours of sleep.
"So you're on an 18-hour day," he said. "We had a real heavy drill schedule, so you're not really getting much sleep."
Leading the way into 3-D, etching 
McCawley recalled falling in love once he saw all the 3-D printers, computer etchers and other devices at the Muskogee High School FabLab.
"And my wife could see herself becoming a FabLab widow," he said, chuckling.
Learning all the different devices was a process, he said. He said he first became familiar with laser engravers.
"It was kind of like, do a bunch of it and learn from your screw-ups," he said. 
He said he now is getting used to computer numerical control, or automated control, of such devices as routers or mills.
"Every day something will come up that I haven't seen before," he said.
McCawley recently etched 120 wooden feathers for honor students in Indian education.
He said he also helps FabLab users with their projects. 
"I'm not certified as a teacher, but if teachers want to bring their students in, I tell them you have to be responsible for the people, and I'll be responsible for the equipment," he said. "Of course, we're open to the public, so anybody can get a membership or anybody retired from MPS is automatically a member. I kind of coach and instruct and supervise for safety."
Drumming a release
McCawley doesn't drum much with a band.
"It's a little bit of challenge to find somebody with the same goals and objectives," he said. "I take it seriously enough that I want to do hard work, but I'm also laid back."
However, he doesn't need to drum with a band to get into the beat.
"With drums, I can sit down and play for six hours," he said. "Everything's sore and I want to keep playing."
He said drumming allows him to see "personal growth in real time."
"Everything about the drums is very stimulating," he said. "If I'm excited, then I play with excitement. Or if I'm feeling mellow and bluesy, that's another thing, so It's very therapeutic."
He demonstrated how soft-tempo jazz or blues drumming differs from energetic rock drumming.
McCawley described drumming as mesmerizing and a release.
"It feels awesome when you do cool stuff," he said. "Or you think 'here's something I want to be able to do,' and you start practicing. And after a few hours of practicing, you look back and think 'I'm doing this so much better than I did before.'"
Q and A 
HOW DID YOU COME TO BE AN OKIE FROM MUSKOGEE?
"My family moved out here to Oklahoma in 1999. I joined the Navy and when I got back, they had a farm in Porum. I worked on the farm for a while but it wasn't quite enough to be able to support me financially. I ended up here looking for work. Decided it was a pretty good place to settle down."
WHAT DO YOU LIKE BEST ABOUT MUSKOGEE?
"It's just the right size. It's like a small town but we have all the amenities, like Walmart and we have a little bit of shopping. We don't have a lot of traffic, but you can still get everything you need. Also, nice neighbors. Everybody waves at each other. Of all the places I've been, it seems a lot more welcoming."
WHAT WOULD MAKE MUSKOGEE A BETTER PLACE TO LIVE?
"I personally just like the way it is. There's probably room for growth in certain things. It's kind of sad to see people moving away, people moving up to Broken Arrow. Instead of doing that, why don't we do what they do in Broken Arrow and put it down here."
WHAT PERSON IN MUSKOGEE DO YOU ADMIRE MOST?
"Eric Wells, our chief operations officer at the school. He's the real deal. He treats all his people really well. He's a very genuine guy."
WHAT IS THE MOST MEMORABLE THING TO HAPPEN TO YOU IN MUSKOGEE?
"I did a stretch of volunteering for Habitat for Humanity and my wife was president at the time and Eric Wells was the vice president. We moved a whole warehouse of furniture because they were getting ready for a sale, and out of that volunteering experience, I met my wife and I got my dream job."
WHAT DO YOU DO IN YOUR SPARE TIME?
"Play drums. And we just chill and watch Netflix some nights." 
HOW WOULD YOU SUM UP MUSKOGEE IN 25 WORDS OR LESS?
"A little town with a big heart."