Layer by layer, Indian Capital Technology Center's 3-D printer creates plastic mask sets to help protect health care workers from COVID-19.
ICTC is working with District 1 Muskogee County Commissioner Ken Doke to create and provide plastic masks to medical personnel. Other mask sets are being made through Muskogee High School's Fab Lab, Advantage Controls, Optronics and Muskogee Public Library, Doke said.
"Right now, the priority would be for front-line health care workers who are likely to come into contact with COVID-19," Doke said. "I'm still getting calls on a shortage of PPE's, especially respirators." 
PPE means personal protective equipment.
He said he found online instructions on how to make a filtered mask using 3-D printers.
Doke said he took the file to MHS Fab Lab Manager Collin McCawley. 
"We looked at it, made a few tweaks and it looked like it would work pretty well," Doke said. 
The mask set features a mask frame to fit over the mouth and nose. A square attachment clips an N95 filter in place. Doke said N95 filters are 98 percent effective against particulates that are 1 micron, or a millionth of a meter.
He said health care workers can take the plastic masks off, sanitize them, wipe them and reuse them.
"It would be much better than what they are trying to do with those disposable masks," he said.
ICTC Drafting and Design teacher Shannon Barnes said his printer can make five masks and five filter clips at a time.
It's a slow process, Barnes said, adding that each set takes about six hours.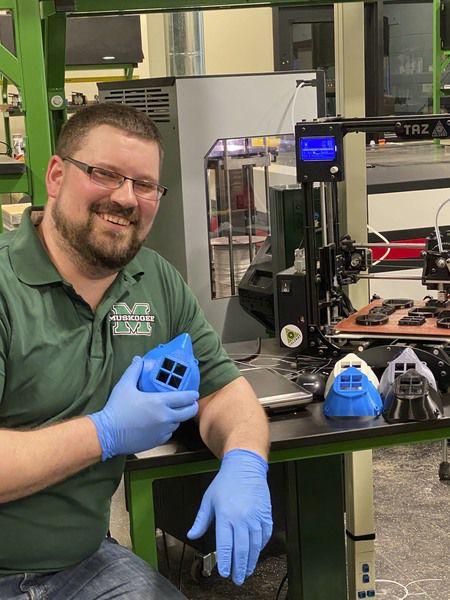 "The 3-D printer actually works in layers," Barnes said. "It's almost like two-dimensional printing over and over and over. It prints a tenth- to a quarter-millimeter layer at a time as it builds it up."
Barnes said ICTC prints with a carbon fiber filament, "so it's really, really rugged. Really resilient."
He said he can make 10 "prints" a day with his printer.
"Printers vary," he said. "Some are larger. Some are smaller. Some can only print two at a time. Some can print 10."
Barnes said the finished mask sets need to be sanded and smoothed after being printed. An air-tight rubber seal is attached to the mask's rim.
Muskogee Public Schools Chief Operating and Technology Officer Eric Wells said the MHS Fab Lab is working on mask set prototypes.
"A lot are just doing the work at home," Wells said. 
Advantage Controls President Jeff O'Neal said the factory has several 3-D printers at its Muskogee factory.
"Our parent company has a facility with several injection molding machines, and they're currently tooling to produce the masks in high volume," O'Neal said. "They should have high quantities of the plastic masks to us here in the next week."
He said the injection molding machines can generate at least 1,000 masks a day.
"Advantage Controls, as a company, believes strongly in the community," O'Neal said. "We're citizens of the community and we want to give back and help our fellow Muskogeeans. We have a lot of great resources here in the city, and it's just good when other businesses and agencies and individuals will step up and help make the best of a bad situation."
Doke said he found an online store for N95 filters and ordered about 500 of them. He said he ordered 600 meters of elastic for straps.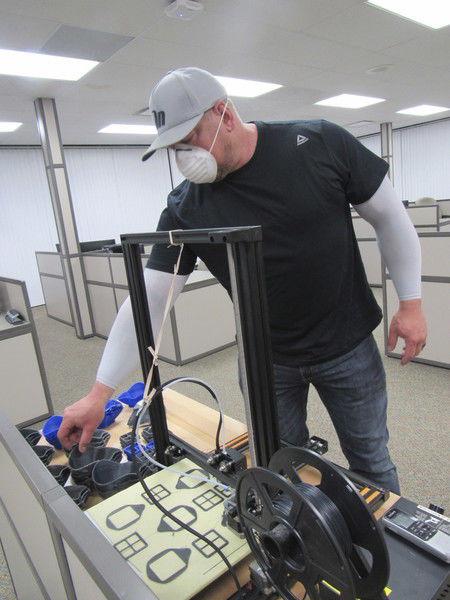 "Possibly, as we make these new masks, we may be able to provide some of the elastic to handle some of the existing PPEs that's just worn out," Doke said.  
He said he found a 3-D printable design for a face shield. 
Doke said he applied for a grant to get more 3-D printers.
He said he encourages people with 3-D printers to contact him through Facebook messaging. He said he will hook them up with the proper file for making the sets.
"Literally, they won't have to do anything but load the file and print it," Doke said. 
Finished masks can be brought to a donation barrel at the Muskogee County Health Department, 530 S. 34th St.