Muskogee Public Schools bus monitor Debbie Edwards will be smiling through her face shield when special education students ride the bus this year.
Face mask or face shield requirements are among several pandemic-related changes MPS bus riders will encounter when school starts on Monday.
MPS Transportation Director Brad Smythe said 55 percent of MPS students, about 2,900, ride the bus each day, a greater percentage than many other districts.
This year's number might be lower because 1,500 students are enrolled in MPS E-Learning Academy, said MPS Marketing and Communications Director Steve Braun.
Smythe said MPS had looked for ways to reconfigure bus routes to allow more social distancing.
"There was just not a way to do that and make the times work," he said, adding that in most cases, buses and routes will be the same as last year.
All children above second grade must wear a mask, Smythe said. Younger children will be encouraged to wear masks. 
MPS bought face shields for bus monitors on special needs buses, Smythe said. 
"The bus monitor, who does most of the interaction with those special needs children, will be wearing a shield, so the children can see their smile, and they will feel more comfortable with that person," Smythe said.
Bus drivers, who will wear masks, have been taught to wave or make other friendly gestures as younger children board the bus.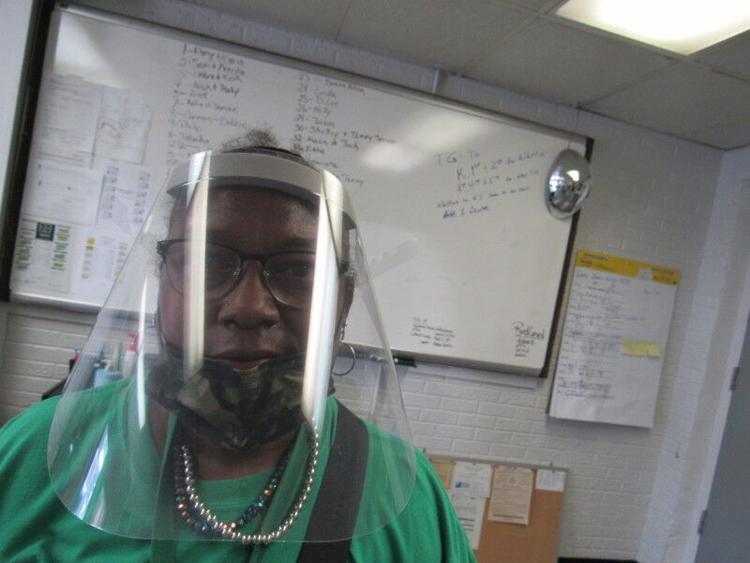 "A kindergartner or a first-grader, subconsciously, you're looking for a smiling face, and now they have this... " Smythe said as he held up a face mask. "We want to try to get kids to understand we're being friendly."
Early Childhood Center bus riders will be encouraged to wear masks, but not required, Smythe said. He said bus drivers have been encouraging ECC parents to show their children how to wear masks and to get them used to wearing masks.
Disposable masks will be on buses in case a child forgets.
Windows on all buses will be kept down to encourage fresh air circulation, Smythe said.
"We trained our bus drivers to drive a little bit differently," he said. "To try to avoid as much stopping as we can to keep that circulation every day."
All school buses will have bottles of hand sanitizer, and all buses will be sprayed down and sanitized after each route, he said. 
Buses will be loaded from the back to the front, and unloaded from the front to the back to limit exposure to other people, Smythe said.
Social distancing might be possible in some instances, such as with athletic teams, Smythe said.
"They could sit every other seat," he said. "Where we can do that, we're asking coaches to do it."
Seven new school buses are to arrive at the district in October, Smythe said. The district bought four 84-passenger buses before the COVID-19 pandemic hit. 
"Last year really stressed us on overloaded buses," he said. "What happens when buses get full is we have to take stops off of one and put them on the other, causing longer delays on where kids want to go."
The district later bought three 72-passenger buses through COVID-19 CARES Act funds.
Smythe said that, until the buses arrive, "we're going to have to double up on some routes."
"Part of that problem is that we don't have enough bus drivers," he said. "And that is a national problem."