High School English teacher Sheri Godwin says she finds success when her students find success.
"What motivates me is kids coming back, saying I made a difference," she said.
Godwin recently experienced another type of success. She's been named Fort Gibson Schools Teacher of the Year.
Fort Gibson Superintendent Scott Farmer said the Teacher of the Year is first selected by peers at each school. A panel of community members select the district Teacher of the Year from the choices at each school.
Farmer said Godwin has extensive classroom experience. The Hulbert native has taught for 27 years, including 24 years at Fort Gibson. She taught at Skiatook and Tahlequah before that.
High School Principal Ben Pemberton praised Godwin's professional demeanor and willingness to use different teaching strategies.
"She's the type of teacher you want others to learn with," Pemberton said. "She had a full intern in the fall semester. She did a wonderful job mentoring her and bringing her along, this teaching candidate."
He said Godwin involves her students by getting them in front of the classroom.
Godwin said she feels honored and blessed to be chosen Teacher of the Year by her peers. 
"It's just unexplainable," Godwin said. "It's one of the biggest honors I've ever been awarded."
Godwin said her goal is not just to teach English, but also teach students to love and respect others. She said she wants students to take what they learn and "pay it forward." 
In September, Godwin's students taught fifth-graders a science class based on the book "What a Plant Knows."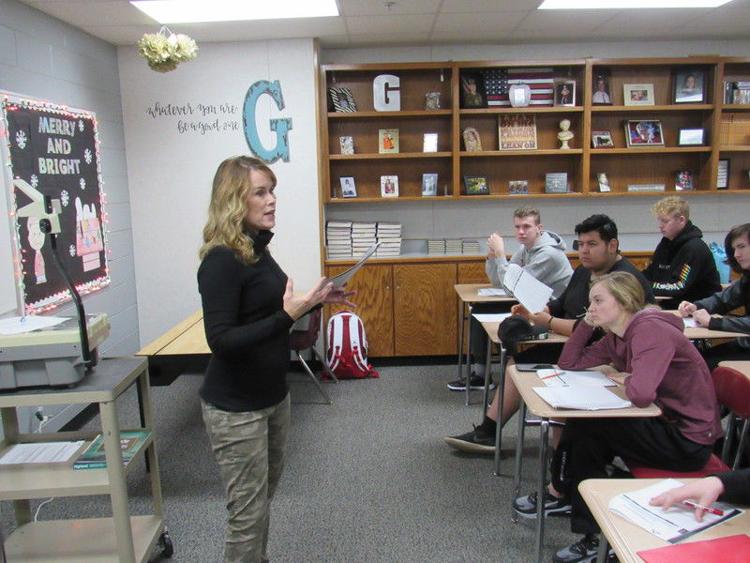 "They had learned what a plant knows and they wanted to share their knowledge," she said. "I think it's important to teach kids to have a servant's heart and teach others what they have the benefit of knowing."
She said a servant's heart involves taking one's advantage, or what one has learned, and helping others along the way.
Godwin said her biggest teaching challenge is to keep students motivated.
"They have so many distractions, like social media, and it's hard to keep them entertained long enough to learn," she said. "I don't think they see the long-term effects of knowing how to write an essay properly or scoring well on the ACT. Trying to keep them entertained while trying to teach them what they need to know is one of the biggest challenges in education.
She recalled having teacher mentors who motivated her while growing up in Hulbert.
"I could go to them when I couldn't go to anyone else," she said. "They would take time to steer me in the right direction. I want to be what other teachers were for me." 
She said her high school basketball coach Leroy Qualls taught her how to set and achieve goals.
"He never acted like I was a burden," she said. "He always took time to talk to me."
Godwin said she hopes to be that kind of teacher for her students.
She recalled one student who made a 30 on the ACT English test.
"He asked if I knew what to attribute that to," Godwin said. "I said 'obviously, you're smart.' And he said it was all the work we did preparing for the ACT." 
Meet Sheri Godwin
AGE: 49.
HOMETOWN: Hulbert.
EDUCATION: Hulbert High School, 1988; Bachelor's and master's degrees from Northeastern State University. Currently working on master's in counseling degree from Southeastern State University.
FAMILY: Husband, Kevin; two children, Lydia and Tripp.
CHURCH: Fellowship Bible Church.
HOBBIES: Singing, teaching Sunday school, yard work, gardening, spending time with family.