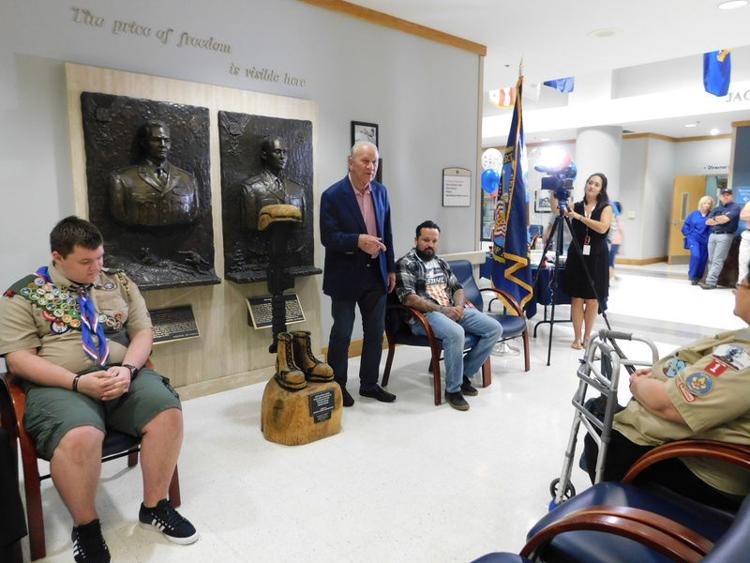 Mitchell Scott's connection with veterans runs deep.
So, the 18-year-old Tulsa resident and Eagle Scout worked with Anthony Marquez, a Marine Corps veteran, to construct a battlefield cross woodcarving that will now be on permanent display in the main lobby at the Jack C. Montgomery VA Medical Center.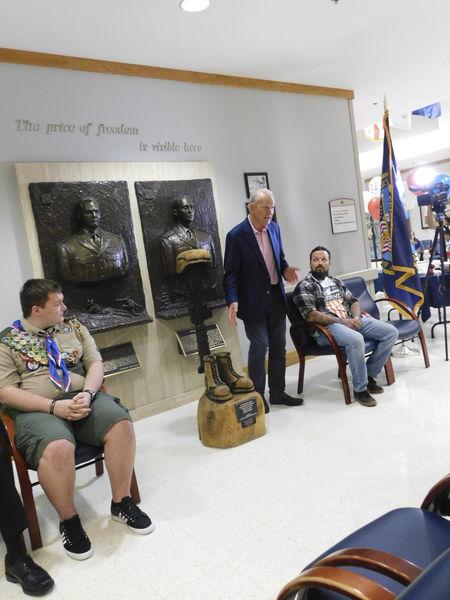 Scott donated the carving, along with a bench, to the VA on Tuesday as part of his Eagle Scout project. The bench will be at the south entrance to the medical center at 1011 Honor Heights Drive.
"My grandfather was a patient here, and my uncle went here," he said. "It bothered me how little attention veterans were getting for all of their service. Not only did I want a memorial, but I also wanted something for people to sit down and relax in troubled times."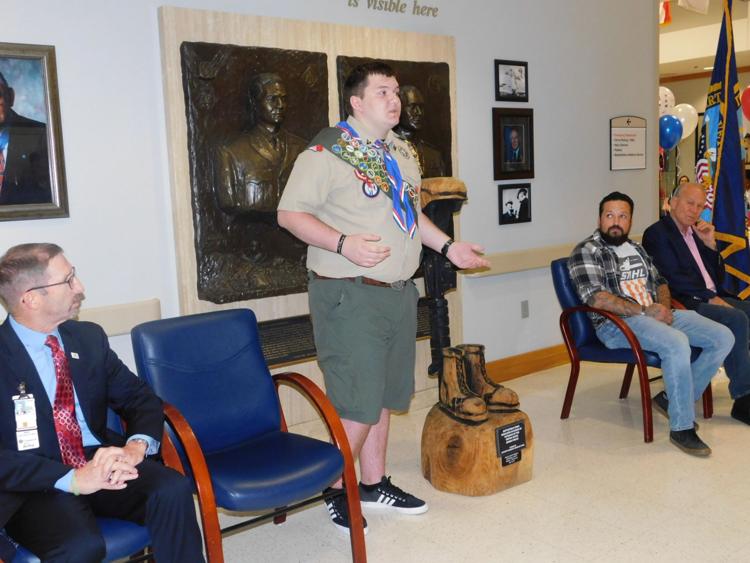 Barry Switzer, the former University of Oklahoma football coach, also was at the donation ceremony to lend his support because of his friendship with Marquez.
"I saw his talent and how he's taken 17 of these crosses and delivered them to the families of soldiers he served with in Afghanistan. He survived and they didn't," Switzer said. "He has marvelous talent. He's driven 70,000 miles in his pickup truck to deliver these crosses."
Switzer, a former Dallas Cowboys coach, also "saluted" Scott.
"He's an American patriot, and I hope other young men and women feel the same about the country like you do," Switzer said. "We would have a hell of a country if they do."
Marquez, who lives in Owasso, learned carving from Clayton Coss of Muskogee.
"He's one of the best known carvers in Oklahoma. He gave me pointers. The first one I did took me 18 hours, or about two days, to do," Marquez said. "Now, I'm more confident with a saw and it takes me six and one-half hours.
"When Mitchell wanted a carving for the VA hospital, it made me feel good. At the end of the day, it's going to people who deserve it and I know they're going to people who appreciate them the most, and that's what matters."
Mark Morgan, the director of the Eastern Oklahoma VA Health Care System, accepted the carving at Tuesday's ceremony.
"It will be for generations to come to enjoy," he said. "I would be remiss if I didn't thank you Anthony so much for what you've done to keep us safe in defending our country and thank you for sharing your artistic talents."