While other Muskogee High School students take classes virtually, MHS jazz band members practice in the band room.
Choir members sit several feet apart while they practice in another room.
Extracurricular classes such as music and athletics continue to meet on campus, while other Muskogee Public Schools students are doing distance learning until Dec. 7. All will have time off for Thanksgiving break.
Superintendent Jarod Mendenhall called for students to go to distance learning last week. He said MPS students tested positive for COVID-19 in October, and 31 tested positive the first 11 days of November.
MHS freshman Emily Irvin, who plays saxophone, said she doesn't feel too stressed about practicing. She comes to school for symphonic and jazz band practice, one right after the other.
"I wear my mask when I go out of the house," she said, adding that her stepfather brings her to practice and picks her up.
MHS Band Director Bruce Thompson said they'll continue to practice on campus as long as district administration allows.
"Athletics are all meeting," Thompson said. "We got with the administration, and they let us do it."
Students can opt to stay home and complete music assignments online, he said.
"We probably have about 60 kids who come up there who are split between two bands," Thompson said. "There are supposed to be another 40 who are supposed to be doing assignments online."
MHS music uses the SmartMusic software for online students.
"They have to get on there and play online with their music," Thompson said. It shows that they did it, and we'll be recording it for grades."
Stacey Brown said he let his son, junior Ethan Johnson, come to practice. Johnson plays trumpet in the jazz band.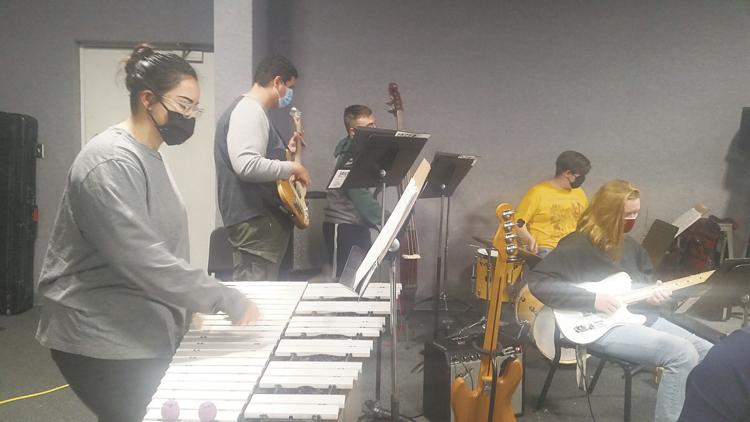 "It's definitely a concern," Brown said as he picked his son up from jazz band practice. "He's around a group of people. There are multiple people. He's not isolated from the coronavirus and the spike of the cases."
Thompson said students are required to wear masks when they're not playing horns or woodwind instruments.
"They have bell covers over their bells," he said.
Players also are spread out.
"Each one has their own music, so they're not sharing music," he said. "They each have their own music stand."
He said student temperatures are taken each day. Those with high temperature are sent home.
Hilldale High School allows athletics and band to practice on campus. The district has gone to virtual learning until Thanksgiving and is to restart on-campus classes Nov. 30.
At Fort Gibson, all high school and middle school classes, except some athletics, have gone to distance learning. High School Principal Ben Pemberton said the band conducts practices through Google Meet.
"It's like a Zoom meeting," Pemberton said. "Our band instructor's there and she's got about 60 kids logged in. The kids are visibly tested onscreen, and they're going over their chair test results."
The results show whether a student gets first-chair, second-chair or whatever, Pemberton said.
"Students were performing pieces of music online while other students were practicing, muted in the background," he said. "They were working in sync with what they would actually do during the school day. In conversation, they are where they would normally be during the school day."