Karri and Roy Parker had only lived in their mobile home south of Muskogee a few weeks when a storm destroyed it Friday morning.
"We lost everything," Roy Parker said as he and a relative tossed roof supports and other debris from a garage.
The Parkers weren't alone in their loss.
Muskogee County Emergency Management Director Jeff Smith said he knew of three families who lost their residences Friday.
"That's absolutely, total loss, there's no structure there," he said. "There's a lot who still have major damage."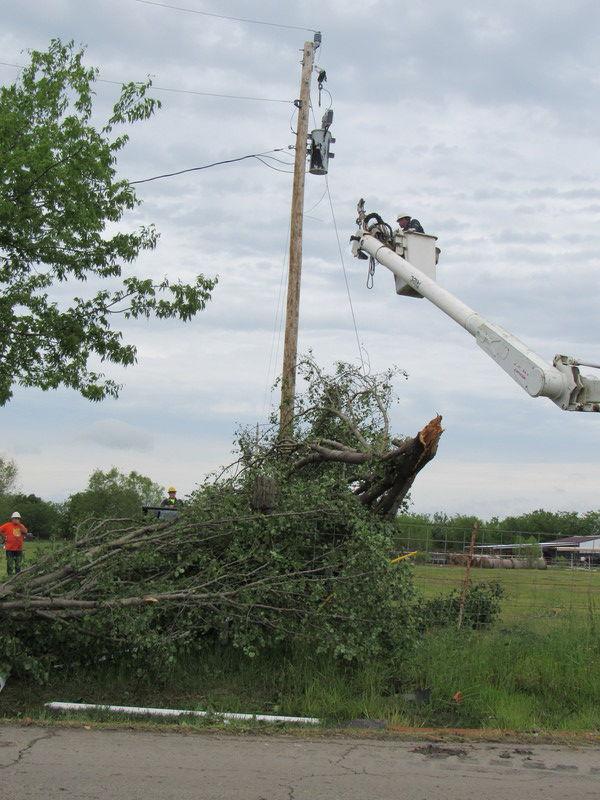 The National Weather Service sent inspectors Saturday to determine if a tornado had struck the area.
Storm damage also was reported around Oktaha and Wainwright, Smith said. 
"We don't know how much. We've been trying to get over there," he said, adding that Elm Grove Road and 113th Street South were the hardest-impacted areas he saw so far. 
East Central Electric Cooperative's Facebook page reported 1,600 outages, mostly due to snapped electric poles, on Saturday.
Contractors and electric companies worked through Saturday to get power restored and clear driveways and side streets, Smith said.
District 1 Muskogee County Commissioner Ken Doke said it could take weeks, maybe months, to clear downed trees or other debris completely off county roads.
"Our goal first is to get one lane open and get all roads at least open again," he said. "We'll have to come back and finish cleaning those."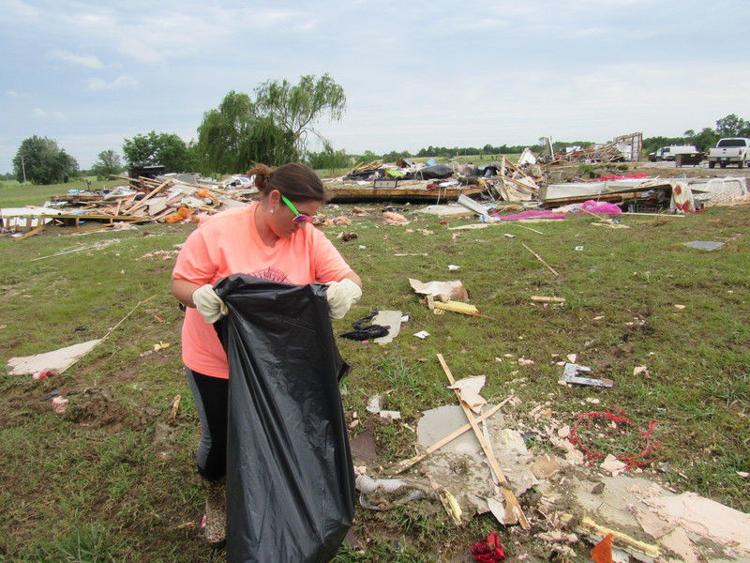 The county also is dealing with flood damage, with as much as seven inches of rain falling in some parts of the area. Friday's flooding hampered efforts to reach the Elm Grove area, he said.
"On a lot of our roads, the water got so high so fast that we had a lot of washouts," he said. "A lot of our pipes out. We have bridge damage."
Roy Parker said he and his wife were planning to build a home on the property, and were living in a mobile home in the meantime.
The Parkers' mobile home, plus the roof of a garage, were blown across their eight-acre property and beyond.
Parts of the Parkers' mobile home were tossed south across Elm Grove Road, onto a neighbor's porch.
"Our roof is in the pond in the back of that pasture," Karri Parker said, pointing to the north.
Across Elm Grove Road, helpers found craft material Parker uses to make wreaths and photo window panes.
Parker said she and her husband were not at home when the storm hit. She said they spent the night at her mother's house.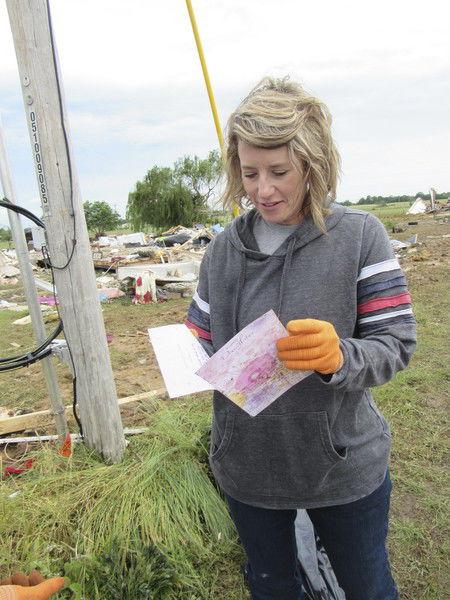 She said family photos and heirlooms were her main concern. Helpers found a soaking wet birthday card from her father, the writing still legible. They found vintage fishing lures that belonged to Roy Parker's great-grandfather.
"These have been handed down for quite a while," she said. "My grandmother passed a year ago in March, so I wanted to salvage as much as she had left me. A lot of breakables, but we salvaged most of them."
She held back tears when a sister-in-law Michelle Fuller brought her a glass figurine with a broken hand. Fuller gently wrapped the figure in bubble wrap.
Parker said family and friends have been great. 
"Neighbors have been amazing," she said. "The community really rallies together when something like this happens. Despite the devastation, it's really a blessing."
Cissy Moore, who lives across Elm Grove Road, recalled worrying about the Parkers when she heard lightning hit one of her trees.
"And I heard a sound, and I went to the window and there was so much trash I couldn't see. I got my shoes on, and I wouldn't go across the street because there were downed wires," Moore said. "I was standing in the middle of the road yelling for them," she said. "I didn't know if they were home or anything. I was on 9-1-1."
Moore said the Parkers' roof hit her front porch. Debris from the house scattered across her yard. 
But she said she isn't worried about her damage.
"I told them, 'you take care of yourself, don't worry about this, I'll find somebody to clean it up," Moore said. "I offered them a bathroom, cold drinks, a place to rest. I have no electric, but I still have water."