Alice Robertson Junior High students braved the Valentine's Day rain to shower love on an old house.
Three ARJH students taped handmade Valentines on the house where pioneering Congresswoman Alice Robertson lived. It was part of a Heart Bomb 2017 project promoted by the National Trust for Historic Preservation.
Robertson lived in the house, between 11th and 12th streets on Elgin Street, from 1925 to 1931.
Seventh-grader Nevaeh Simpson said students want to show people Robertson's home.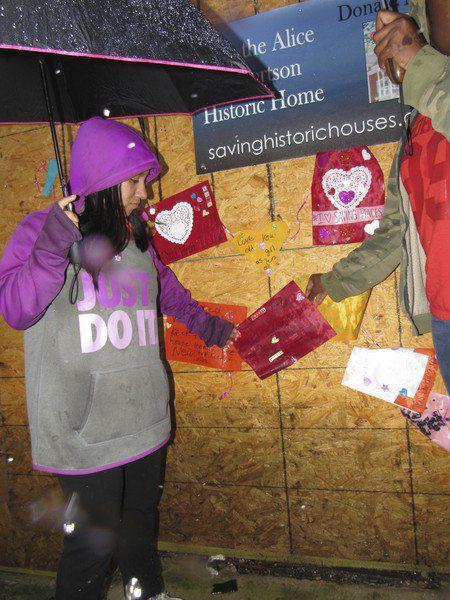 "I think it's important to people to learn she was the first woman in Congress," Nevaeh said.
Robertson served from 1920 to 1922 and was the second woman — and the first Oklahoma woman — in Congress. She also founded a school that eventually became the University of Tulsa and was appointed a postmaster by President Theodore Roosevelt, according to an Oklahoma State Senate website.
Historian and author Jonita Mullins said she was impressed with how the students were "willing to step out in the rain to show this house needs help."
Seventh-grader My'unique Jolly said helping the house was worth venturing out in the rain.
"We think it might turn into a museum, so people can see how she lived," she said.
Nevaeh said she passes by the house every day on her way to school.
Nevaeh, My'unique and eighth-grader Jecka Holt helped make the Valentines during their school's 21st Century Project Create program.
According to the Historic Trust for Historic Preservation website, the Heart Bomb project is an affectionate way of raising awareness of historic sites. Participants are encouraged to put Valentines on or near the historic structure, then take lots of pictures to share on social media.
Project Create Program Director Tammy Pierce said Muskogee Public Schools secondary education director Melony Carey got students involved with the Heart Bomb project.
Carey said she wants ARJH students to "become stewards of our community and history."
Carey said ARJH recently collected pennies to raise money for the Alice Robertson House restoration.
Mullins is raising money to restore the house. According to the Saving Historic Houses website dedicated to the fundraising, the Alice Robertson Home was built in 1905 in the Kendall Place Historic District.
Mullins said it was the Robertson's final house, and the only one still standing. She said the house is the only remaining structural link to the Muskogee figure. The junior high school that bears her name was built in 1939.
So far, the front exterior of the Alice Robertson Home has been restored, Mullins said. Work now needs to be done on the east side of the house, as well as the roof.
Mullins said $11,000 has been raised and spent on restoration. 
"We feel $15,000 more will take care of the roof and east exterior," she said. "We want to get it sealed, so rain won't get into it."