The boat isn't much — an aluminum tray, a copper coil, and a tea candle — but it sputters along the water anyway, to the cheering amazement of the spectating eighth-graders. Of course they're excited; after all, they built the boat.
The eighth-graders, hailing from Fort Gibson Schools, are at one of four stations meant to demonstrate the opportunities and careers available in Muskogee's manufacturing sector.
The event, called the Dream It. Do It. Manufacturing Block Party, was hosted at the Dr. Martin Luther King Jr. Community Center on Friday morning by the Muskogee Port Authority's Industrial Development Office.
Students rotated from station to station, crafting boats at one, putting together Fort Gibson school signs at another, hearing from a panel of manufacturing representatives and walking through a miniature career fair.
"I think it's very impressive how we can take something so small and make it do something so large," said student Eli Hazen, of his boat. "I think this event is showing me something I want to try in the future."
That's the idea, said Fort Gibson history teacher Tim Hogan.
"I think it's a great chance for students to see opportunities in the area they live," Hogan said. "A lot of students don't know what a manufacturing job is. It's not just working on an assembly line. You're not going to be working minimum wage at one of these jobs, you're going to make it a career."
Hogan was right. Many of the students said they had no idea these kinds of opportunities were in Muskogee.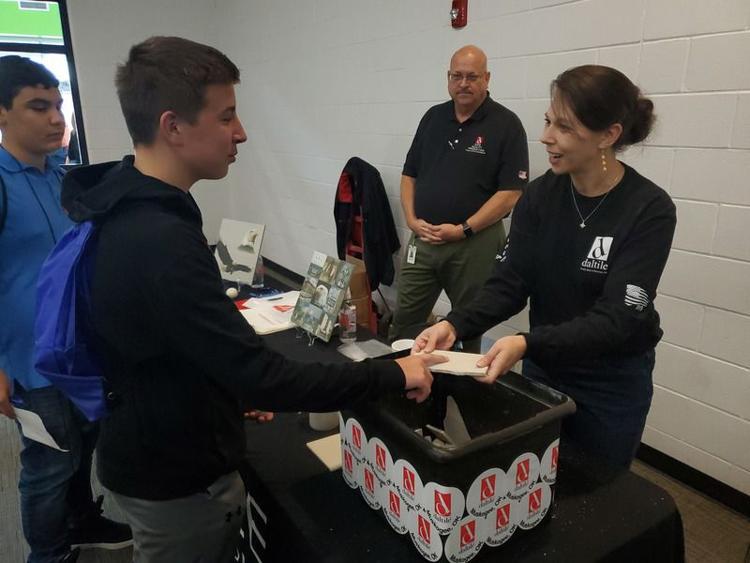 "I've seen the factory buildings and not known what they were," said Avery McDaniel, after putting together her sign. "I thought this was really cool."
Over at the career fair, Jace Austin chats with Dal-Tile representative Elizabeth Webster. Austin grins as Webster demonstrates the difference in sturdiness between pre- and post-kiln tile, then gives him a tile to break.
"That's pretty cool how it went from liquid to solid like that," Austin said.
Webster greatly enjoys visiting with the students, she said, as she's done for the past two years.
"I think it's a wonderful opportunity," Webster said. "Not only is it showing kids what's out there, but we're getting them to be curious, too. We're letting them know what they can do."
Webster said it's important to discuss what careers are available with students.
"There's so many opportunities out there," she said. "We just have to talk about it."