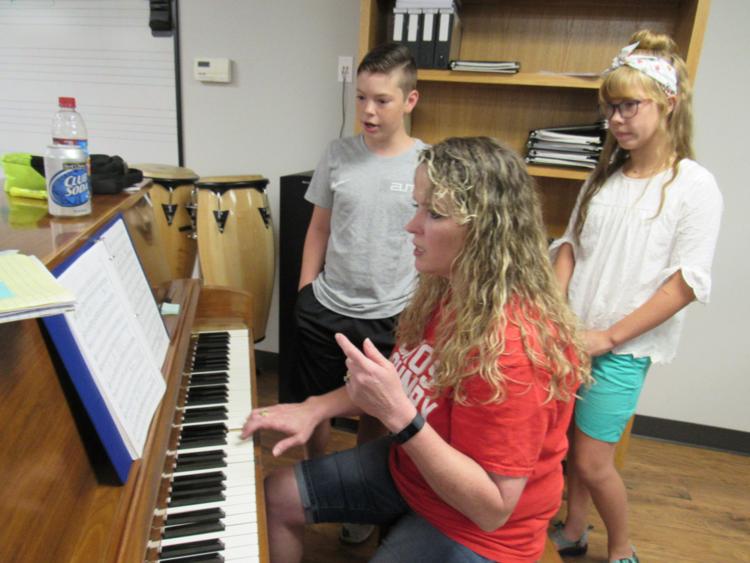 Youngsters had only five days to put together a musical at First Baptist Church last week.
But program director Joy Nelson expects the words and music to stay in their hearts. 
"Music is a gift," Nelson said. "If I asked you to tell me your favorite Bible verse, you could probably tell me three or four. But if asked you to tell me your favorite hymn, you could not stop singing because of the way the brain works when you put words to music."
About 20 youngsters from grades three to six participated in Summer Song, the church's week-long musical theater program.
"We have 20 hours literally to learn an entire musical," she said.
However, the pace is not hard on the students.
"Children are sponges and not rocks," she said. "We have a little choreography with the songs to help them with the motions."
Nelson said the children learned to act, sing and dance.
Cameron Stout, 12, played one of the "Three Stooges," or knights for the queen.
He said he's been involved since he was in third grade.
"I like it because I always liked to act," Cameron said. 
Nelson said teen church members help the children with their parts, as well as with props, scenery and set design. 
Participants paid a $25 fee, which went for music and T-shirts, Nelson said. 
"It's low budget, so we have to make it work with what we have," she said. "Over the years we have accumulated stuff from our costume closets and that kind of stuff."
The church adapted a musical play "It's Cool in the Furnace" to accommodate a large cast, Nelson said.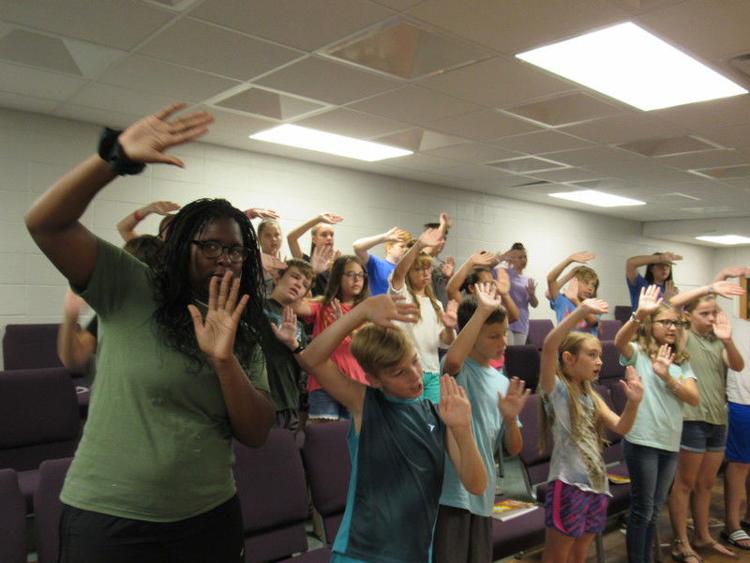 The music is based on the Old Testament story of Shadrach, Meshach and Abednego, three Hebrews who were put in a furnace for refusing to bow down to the Babylonian king.
"On the Bible study stories, basically you can just take it out of the Bible," Nelson said. "But we like to add funny things and funny characters to keep it fun for the audience."
Marty Morris, Nelson's mother, wrote an original script.
Morris said she adapted the play "straight from scripture."
"We find a musical that's already established, and we choose it for the songs," Morris said. "Then we look at our kids and decide what we are going to do with the scripts."
She said the original version of "It's Cool in the Furnace" only has two main characters.
"We have lots of characters, so we want to tell the story as a play, not as narration," she said.
Morris said she started Summer Song years ago, when she was a music assistant at Tulsa's Asbury United Methodist Church. 
"Because Joy comes here, we started it here in 2009," she said.
Morris said she wants to use music to put scripture into children's hearts.
"Music is a very powerful tool in your life, she said. "If you can think of the scriptures you know, it's the one you've sung."
Nelson said teen helpers, who once were Summer Song students, can still sing songs they learned eight years ago."We like to put God's word in their hearts," Nelson said.
Teen helper Aislyn Hensley said she started doing Summer Song when she was 9.
"It taught me a lot about Jesus and how much he loves us, and the importance of music," Hensley said. "They have a lot of music in the show. I learned singing in a choral setting. You just figure out how to pick out melodies. This is how I learned to sing in harmony. It's really good."
She said she also learned about hard work.
"You don't have a lot of time, and you've got a lot to do in that time," she said. "It taught me how to focus and really have to buckle down and get something done."