Dorothy missed a chance to take shelter during a 1939 Kansas tornado and, instead, experienced a "Wizard of Oz" adventure few movie viewers ever forget.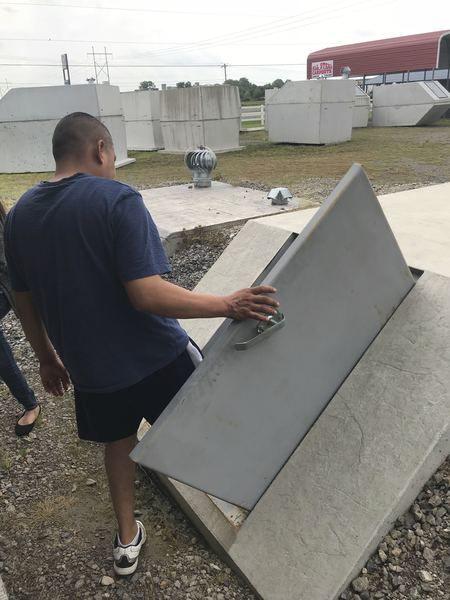 But given the wind velocity, rain and hail that today's tornadoes produce, how many would enter a cellar with only that flimsy wooden door for protection?
Midwest Storm Shelters sells Oklahoma-manufactured units that are created to weather the storm by today's standards. The Muskogee company's in-ground storm shelters are tested to withstand an F5 tornado; designed to meet and sometimes exceed FEMA standards; they carry a 10-year guarantee against leaks; are reinforced with fiber and steel rebar and poured with a minimum of 6,000 psi concrete.
That Kansas cellar door could not have offered that much protection.
Today's tornadoes and storms rarely advance without ample notice from sophisticated radar and broadcast meteorology forecasts. Yet, protection is still necessary.
"We are super, super busy," said Angie Stacy, who handles public relations for Midwest Storm Shelters.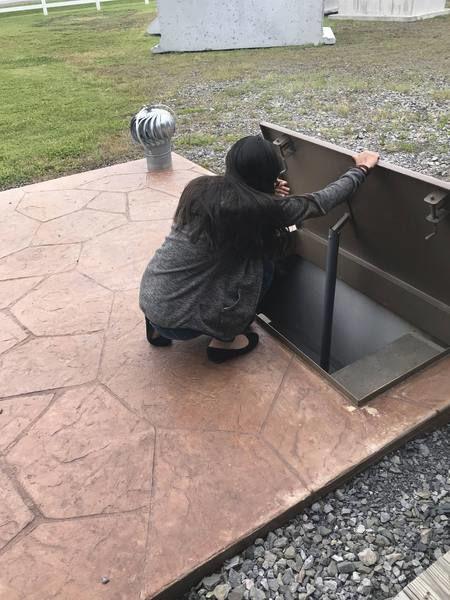 Midwest Storm Shelters is starting its 10th year of business in Muskogee and is a sister company of USA Barns. In addition to storm shelters, the companies offer safe rooms, build barns and provide other services.
While many customers are looking for shelter from the storm at this time of the year, it's really the worst time to shop for storm shelters.
This is because Oklahoma storms produces a lot of rain and moisture, and in-ground shelters cannot be installed if the ground is wet. It's just too messy for the installation trucks to maneuver on wet ground.
Installations are iffy this time of year, and it could take up to eight weeks for a shelter to be manufactured and installed.
The best time to shop for storm shelters is between August and January, Stacy said.
Nonetheless, Oklahoma's stormy weather over the past couple of weeks has prompted many customers to contact the company.
Midwest does a good business in the rural areas of Oklahoma, although there are calls from people living inside the city limits, as well.
"People in the city might be thinking they have a place to go – a backup" if a storm hits, she said, adding a storm shelter is designed for protection regardless of where the customer lives.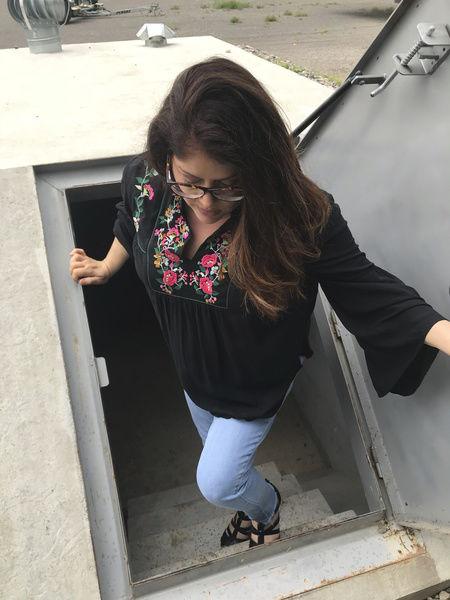 "I feel like everybody should have a shelter." Stacy said, adding, "it's a place to go for safety."
In-ground storm shelters come in various sizes, and there's even one with a decorative flat top designed to somewhat resemble a patio surface.
Most units have steel steps for access, although one model has concrete steps, which makes it easier to get large pets into the shelter.
"Dogs are people, too," she said.
Inside, a concrete storm shelter looks pretty sparse. Stacy encourages customers to equip the space with lawn chairs, coolers and lawn furniture pads for the kids or the dogs.
After all, a storm shelter doesn't have to be pretty – it's designed for protection against a twister.
The "Wizard of Oz" was a fantasy, and everyone presumably lived happily ever after once the storm had passed.
Oklahoma tornadoes are real and unpredictable. Storm shelters are designed for protecting lives in the real world.