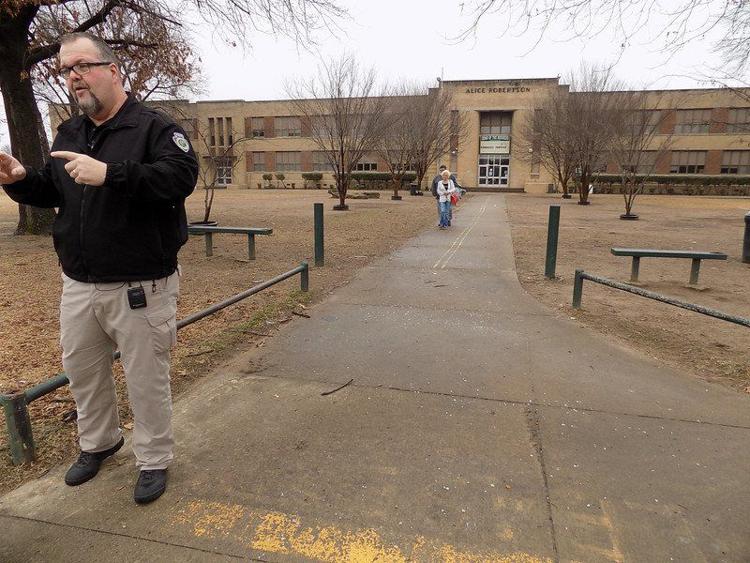 A second student has been arrested in connection with a gun being found in a student's backpack at Muskogee's Alice Robertson Junior High on Wednesday, school officials said.
"There has not been any information from the investigation that indicates any other students beyond the two arrested, were involved," a press release from Muskogee Public Schools said on Thursday afternoon.
School officials said there have also been rumors circulating on social media and at the school related to the incident.
"The school is not on lockdown and we are not sending students home early," officials said Thursday.
Another rumor was posted on Facebook and read that a student was "going to finish what was started yesterday."
District officials said they have identified the source of the Facebook post.
"The rumor is false and our campus police are on top of this incident and charges are pending if a false report is confirmed," they said.
District officials said students at ARJH are safe with administrators, counselors and campus police officers there to assist with questions, fears and concerns.
"The same safety precautions will be there tomorrow and we encourage you to talk with your child about the events that have occurred and assure them it is safe to be at school," the district's statement said.
"The safety and well-being of all students and staff at Muskogee Public Schools is one of the administration's top priorities," officials said. "If you have any concerns, or comments please feel free to call the superintendent's office at (918) 684-3700, ext. 1633.
A steady stream of parents and other family members flowed in and out of the corridors of Alice Robertson Junior High on Thursday, the day after a student was found with a gun on campus.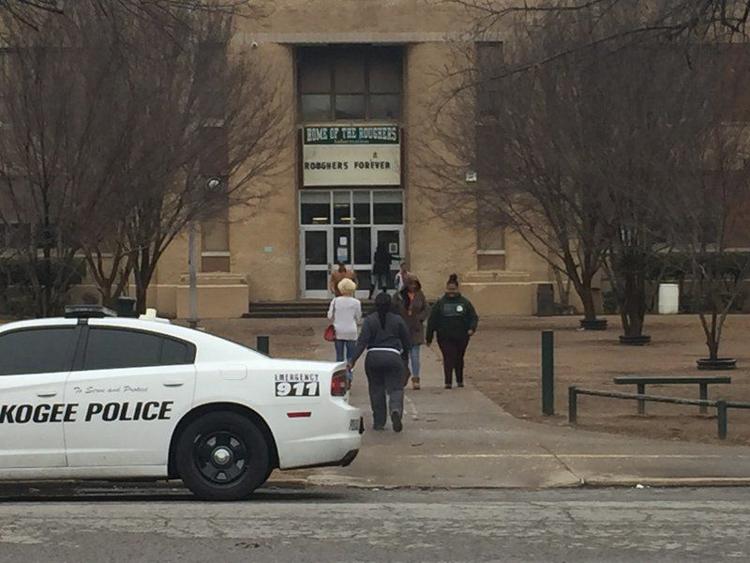 Muskogee Public Schools Campus Police Chief Dan Hall said the parents and family members were responding to rumors from students overhearing comments of other students saying they were going to follow through with the intentions of the youth who brought a gun on campus.
"They're overreacting," Hall said Thursday. 
The students were removed from school, in custody of juvenile authorities and neither the students' name or grade were not being released, he said.
He said there was no new threat on campus Thursday.
Hall did say as a precautionary measure a Muskogee Police Department resource officer was brought to the junior high campus. Hall, who is normally stationed at Muskogee High School, also said the fact he was at the Alice Robertson campus Thursday was as a precaution.
Brittney Fields was among the family members arriving on campus. She arrived at the request of her sister who was the mother of a student and who could not get to the campus.
"She's frightened," Fields said of the eighth-grade student she picked up. "There are just a lot of rumors going around, and we didn't want to take any chances."
Hall said he has a student of his own who attends the campus.
"He's in class today," Hall said. 
He said campus officials' first duty is to contain the situation when a student is found on campus and then let parents or guardians know what was going on. The gun spotted Wednesday was a .22-caliber handgun in a backpack.
While the gun was unloaded, Hall said the student did have bullets for the weapon.
"We just wish parents would quit chasing rumors," Hall said. 
That being said, parents and family members arriving on campus Thursday took their students out of class. Hall said he did not have readily available the number of students pulled from the school.
Hall said the first priority of officers and MPS staff in a situation like Wednesday's is to contain the situation.
"Our whole plan is to make sure nobody else that has a gun," he said. "Once we find out it's an isolated incident we take statements from any students who may have seen the weapon, or knew about it, and try to find out what they knew about it."
The next step is to find out the intentions of the student with the weapon, Hall said.
"Was it that they wanted to bring it to show friends or determine if it was an active shooter situation," he said. 
Once that is determined a police report is filed, juvenile authorities are contacted and a judge is contacted to get the child or children in custody, he said.
"That's what we did yesterday," he said Thursday. "Then, once we find out all that information and make sure the scene is safe and the school is safe we go and notify the parents."
But, Hall said, there was a failure in that system. That failure to contact them had many parents and family members upset they were not notified of the gun on campus situation in a timely manner.
Doris Franklin, grandmother with custody of four grandchildren, including one at ARJH, said she was notified about 6 p.m. Wednesday evening when she received an automated call long after the incident was over.
"Our granddaughter was surprised when we told her about the call and asked her what she knew," Franklin said. "She knew nothing about a gun being found on campus."
Franklin said the message she finally did get indicated the tardy notification was due to a malfunction in the system. Hall confirmed that on Thursday.
"One of our servers that sends out the robo (automated) calls went down and when that happens parents don't know what's going on and get upset with us," Hall said. 
School officials did not find out about the malfunction until about midway through Wednesday afternoon, he said
The problem was resolved and the automated messages were transmitted several hours after the incident, Hall said.