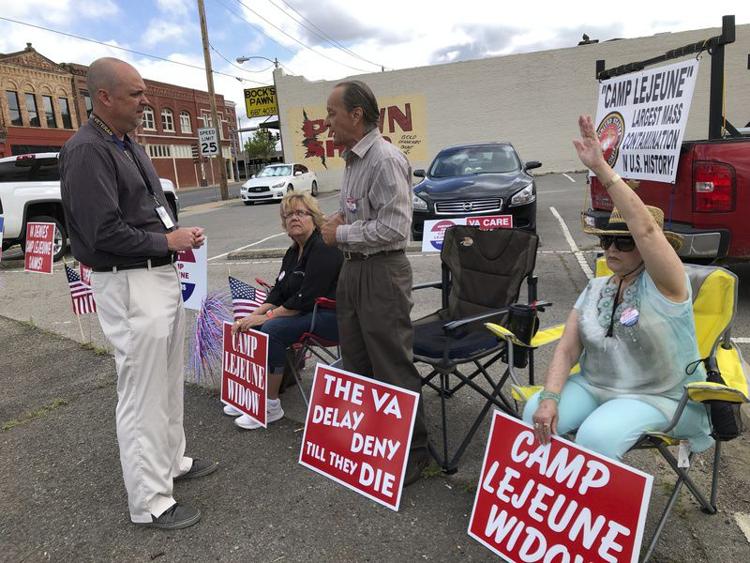 "I am trying to save a life — that's why we're doing this."
That's the battle cry of Tara Craver, the widow of a U.S. Marine Corps veteran who died of esophageal cancer as a result of his exposure to contaminated water while he was stationed at Camp Lejeune. Craver said she fought four years trying to get her husband's benefits, which were approved a year after his death. 
Contamination at the North Carolina military installation was found to be so widespread that veterans now can receive all their health care, except dental care, from VA if they served on active duty at Camp Lejeune for at least 30 days between Aug. 1, 1953 and Dec. 31, 1987. That is the case even if eligible veterans don't have a condition presumed to be related to exposure.
While that is the official line of Veterans Affairs, Craver and two other advocates who joined her Wednesday outside the VA Regional Office in Muskogee said the agency has failed to disseminate information about the benefits available. She said disability claims related to Camp Lejeune contamination exposure often are denied or delayed. 
"There are 2,100 you have in Oklahoma registered with the Marine Corps that have been at Camp Lejeune for 30 days or longer," Craver said. "How many more does your state have who were in the Marines, the Navy, the Air Force, at Camp Lejeune for 30 days or longer — just like my husband — who have no clue they were exposed to highly contaminated water."
Billy Klingenberg, a Sequoyah County resident who sustained service-related disabilities due to exposure at Camp Lejeune, said he "was part of the pollution" at the base. He witnessed the dumping of "dirty industrial cleaning solvents into evaporation pits" on a weekly basis that he said seeped into the soil and water supply. 
While he acknowledged getting help at the regional office in Muskogee, which doesn't process Camp Lejeune claims, Klingenberg displayed a sign during the trio's awareness campaign that expressed a sentiment he believes might be the VA's motto: "delay, deny till they die." 
Deputy Director Bobbi D. Gruner of the  VA's Regional Office of Public Affairs in Dallas said an extensive campaign has been undertaken to educate veterans and their family members about this issue. Those efforts have included a variety of outreach efforts. 
"VA has conducted an extensive national information campaign to help inform Veterans and their family members about Camp Lejeune health care and disability benefits," Gruner said, citing news releases, mass mailings, web pages and blogs as examples. "We worked with the Camp Lejeune Community Assistance Panel members to ensure the information we provide incorporates their comments."
Jason McClellan of the Muskogee VA Regional Office said while the office here does not process Camp Lejeune claims, which are considered specialty claims, staffers here will direct callers to the resources they need. 
"This is a very specialized disability claim," McClellan said. "I think over time what the VA has found is that there is a greater chance of having consistency in quality in training a small group of people who have been experts in that type of claim — the decision was made to process those claims as a specialty claim."
Information: https://www.va.gov/disability/eligibility/hazardous-materials-exposure/camp-lejeune-water-contamination/.