Muskogee Public Schools administrators, teachers and patrons erupted in cheers Tuesday night upon hearing the $110 million bond package won the approval of the district's voters.
Unofficial results from the Oklahoma Election Board showed the measure passed with 3,055, or 68.15 percent, in support of the bond proposal and 1,428, or 31.85 percent, opposing the package. The election, according to voter registration records, attracted about 22 percent of the district's 20,450 registered voters.
"Boy, I'll tell you what, it's a great day to be a Rougher," MPS Superintendent Dr. Jarod Mendenhall yelled after the final tallies were confirmed during a watch party. "Coming into this community, I knew there was a hunger for things to change — I tell you folks, this is our first step."
The package of serial lease-purchase bonds calls for a 60 percent increase in the targeted sinking fund millage rate from 20 to 32 mills. Some of the major projects that will be funded by revenue generated by the 16-year increase in property taxes include:
• $20 million for a new gymnasium.
• $18 million to rebuild most of Alice Robertson Junior High into a Freshman Academy.
• $12 million for renovations to Muskogee High School.
• $13 million for to rebuild most of Tony Goetz Elementary.
• $12 million for a new football stadium
"We put out exactly what we're going to do," Mendenhall said. "And in three years, we will look different than what we do today."
Mendenhall said he is proud of the community and the momentum that was built.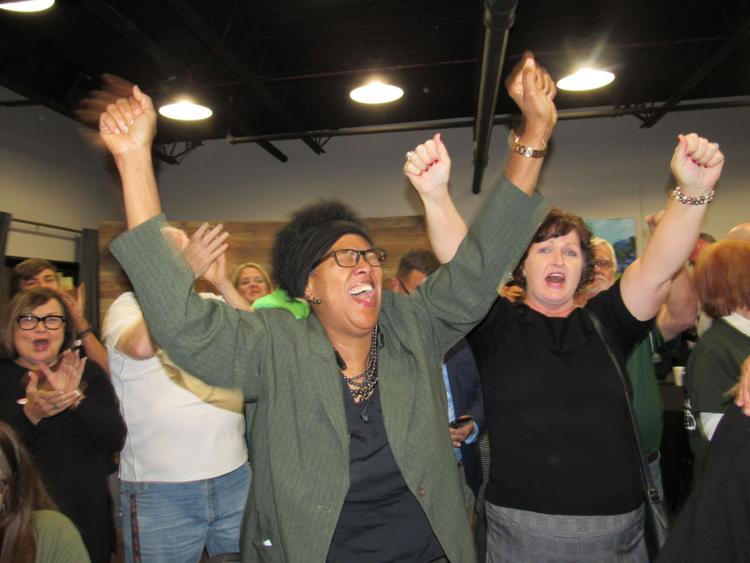 "We had kids on the corners holding signs," he said. "If you cast a 'yes' vote today, it had nothing to do with the adults, but everything to do with the kids."
Mendenhall said the next step is to meet with the district architect and MPS staff members to develop plans. He said he doesn't expect dirt work to begin until summer 2020.
MPS Parent Liaison Lori Jefferson said she's elated about the results.
"This has been a long time in coming," she said. "These are prayers that have been answered, and we have seen a true miracle tonight."
Muskogee High School junior Luke Wilbourn said he's happy with the results even though he'll graduate from MHS before the projects are finished. He said future students deserve good buildings.
"I think it's very helpful for Muskogee," Wilbourn said. "I think it will build a new legacy — it's going to offer a better view for Muskogee, bring a lot of people back to Muskogee and make this town thriving."
April Roberts, who teaches at the Sixth Grade Academy, said she's glad the projects will address issues at all schools. She said her school, formerly Grant Foreman Elementary, will get a new entry at a safer location.
Irving Elementary teacher Courtney Lamont said she's excited that Irving is due to move its entrance to a better location.
"Our entrance is terrible, our parking is terrible," she said. "And we have moldy tiles and carpet that need to be replaced."
MPS Special Education compliance coordinator Amy Pool said she "couldn't be more excited."
"I have children in the district, I work for the district, born and raised here," said Pool, who served on a 30-member committee that decided which projects would be undertaken as part of this proposal.
Pool said she was especially excited about the Freshman Academy at AR. She considered that one of the district's most important needs.
"I think ninth-graders need to be separated from the high school," Pool said. "That's a very important year — they miss out on a lot and get lost in the crowd at the high school."