Rallying Rougherettes laid conquest to bullies from the West
OKLAHOMA CITY — Maybe it was fate.  Or, maybe it was the farthest thing from it.
Fifteen years ago, Muskogee won its first and only state softball championship.
That is, until Thursday.
Muskogee fell behind early, but rallied to win the Class 6A state softball tournament at Hall of Fame Stadium, 7-5 over Westmoore.
"I said we were going to win it," senior Lori Hytche said. "And we did."
The win snapped Moore and Westmoore's stranglehold on the title game. The two teams combined to win the last eight championship games.
And No. 9 looked to be a lock early.
The Lady Jaguars raced to a 3-0 lead with three more hits in the top of the first  when Qiana Braggs tripled to lead off the inning. Braggs scored on a groundout.
Westmoore then took a 5-1 lead with three more hits in the top of the second.
The Rougherettes managed just one hit over the next two innings.
"I told them we've gotta make an adjustment at the plate and we can do it," MHS coach Debby Abbott said. "They had their run in the first couple of innings and I knew we could chip away at that lead. I told the coaching staff  'I've got a good feeling about this.' All we had to do was stay positive, relax and get the hits. If we made the adjustments, I knew we could squirt it out."
And that's what happened in the fifth. The momentum shifted with one swing of Braggs' bat.
Muskogee had two on with two outs after Cindy Tracy reached on a fielder's choice and Ashley Pearson singled. 
Braggs then hit a shot into left centerfield, over the outfield, which already was playing Braggs deep. Braggs rounded the bases to tie the game, 5-5.
"I was just trying to get a base hit. I wasn't trying to get a home run," said Braggs, still sobbing more than 10 minutes after the game was over. "But when I hit it, I knew it was."
The Rougheretttes scored twice more in the bottom of the sixth, using three hits, including a two-strike single by Whitney Hilton for a 6-5 lead.
"It feels great," said Austin Curtis, who drove in the game's last run. "Although a lot of people over here doubted us, we knew deep inside we could do it. Even when we were down."
Muskogee's aggressive baserunning accounted for the final two runs.
Both times, the Rougherettes crossed the plate right before a tag attempt.
"With two outs and you're behind," you've gotta go for it," Abbott said. "If you don't apply pressure, you don't win.
"We might've taken some risks. They may be risks for other teams, but not for ours. They know we're fast and they have to make a perfect play to get them."
The win is the first team title for any Muskogee team since the football team won in 1986.
"I'm happy for the seniors," Abbott said. "They provided leadership all year. I'm elated and tremendously pleased with the kids' gutsy performance."
Clutch hitting, solid defense, resiliency led Lady Hornets to title
OKLAHOMA CITY—All season, Hilldale used its speed and defense to frustrate its opponents.
And Thursday's Class 5A  state softball game was no different.
Hilldale used clutch hitting, solid defense and speed to beat Roland in the Class 5A championship game, 5-3.
"It's great," senior Brandi Byrd said. "I'm shocked. It hasn't sunk in yet."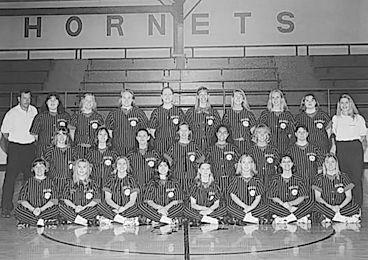 But it was the Lady Rangers who appeared to bury the Lady Hornets early. Roland scored three runs on four hits in the top of the first inning for a quick 3-0 lead.
"I thought we were gonna get beat after that," Carol Barnes said. "But we just started cheering and got up."
Said Byrd: "We had the first-inning jitters. We were nervous at first, but once the first inning was over, we did better."
Indeed.
Led by Barnes, Hilldale's hitters responded with three runs in the bottom of the second. Barnes started it with  a double. It was the first of four straight Lady Hornet hits.
Casey Walker followed with a single to score Barnes. Villines singled to score Walker and Villines scored on a triple by Andrea Hill.
Hilldale continually tested Roland's outfield during the mini-barrage, scoring from second on every play.
"That's what got us here," Hilldale coach Larry Shanks said of the team's speed and defense. "We played good and I'm proud of them. You can't ask for anymore."
Pitcher Wendy Davis made adjustments to the Lady Rangers' hitters. After Roland's three-run first, she strayed from high, arcing pitches to more of a flatter pitch.
Roland managed just four hits the rest of the way.
"I figured out they couldn't hit those," Davis said. "I knew we'd win. I think the team did good."
Barnes broke a 3-3 tie with a home run down the left-field line in the fourth and tripled to lead off the sixth. She scored on a sacrifice fly by Villines.
In all, Barnes finished 3-for-3 with a double, triple and home run. She scored three of Hilldale's five runs.
"I thought Carol played an excellent game," Villines said.
Said Shanks: "She had a heckuva game. She played above herself and did a great job."
Trailing 4-3, Roland threatened in the sixth. The Lady Rangers had runners at first and second with one out. But a defensive gem got Hilldale out of the jam.
Roland's Jamie Kolp hit a shot of the muddle that deflected off Davis' glove. Shortstop Walker snared the ball, stepped on second and fired across to first for the out.
"They just had the will to win," Shanks said. "They had the want and the desire to do this."
Roland got another hit in the top of the seventh. Byrd, the second baseman, made a play running to her left to throw out the runner. A grounder to Walker ended the game.
Villines started celebrating as soon as the ball was hit on the ground.
"I was confident she'd get her out," Villines said. "This is the best way to end my career."
Hilldale was making its fourth straight trip to state.
"(Winning state) feels as good as I thought it'd feel," Shanks said. "For the seniors, this is big. This is something they've dreamed of for years."